GPS Systems Track Loved Ones on Road Trips
By Amy Goyer , June 24, 2013 10:00 AM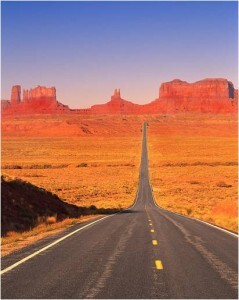 Recently, 81-year-old Goldie Hunt and her husband, Vernon Hunt, 91, were reported missing after they set out on a 500-mile car trip from Garnet, Kansas to visit Goldie's twin sister in Dwight, Ill. The alarming story thankfully came to a happy ending several days later when they were spotted by a law enforcement officer as they asked for directions in Michigan. The Hunts' experience reminds me of a heartbreaking story several years ago 0f a Pennsylvania couple, William Fresch, 85, and his wife Betty, 79, who got lost driving home. Their bodies were found near their car the next morning after a frigid January night. These stories are terrifying for those of us who care for older loved ones.
Contest: Share your favorite one-tank road trip for a chance to win $100
While every family's situation is unique, if you're concerned about older loved ones setting out on a road trip (near or far), you might consider a GPS (Global Positioning Satellite) system that will allow you to track their location on your computer or other mobile device (phone, tablet etc.). Here are some options:

Phone: A GPS system built in to their mobile phone - either as a system (like AT&T FamilyMap and Verizon Family Locator) or as an app. Some apps include an option to set up a quick emergency alert or a text, email or phone call to designated emergency contacts. This may be your least expensive option but beware: The phone might have to be turned on for it to work.
Portable: Often called personal GPS tracking and locator devices, these are generally small gadgets that can be carried, attached to a belt or stashed in a compartment in a car. They are marketed for kids and teens, older adults, vehicles or other assets. They range from simply tracking locations to including voice communication and emergency alert options.
Installed: A permanently GPS system can be installed in the vehicle and may be hard-wired to the vehicle's battery. These are harder to remove or disable.
Pricing: Most GPS options are pricey, but can you put a price on peace of mind and safety? You'll likely pay $100 and up for a device plus an annual or monthly service fee of $30 or more, and most require a minimum 1-year contract. However, there are some that can be rented - GPS4rent.com offers one for $29.95 a day; Rocky Mountain Tracking offers the Ghost Rider for about $100 a month plus a service fee; SentryGPSid offers simple devices for as low as $4.00 a day depending on length of rental.
Keep in mind your parents or other older loved ones could be offended when you ask about tracking their travels, so approach this issue with respect, love and care, not distrust or accusations. It might be easier to position it as for your peace of mind, not about their driving or cognitive abilities. Check out my tips for having difficult family conversations.
You may have no clue that your older loved ones could be in danger of getting lost or having an inability to manage car trouble. Perhaps they've never had a problem. There is always a first time though, so I'm thinking it's better to be safe than sorry.
Amy Goyer is AARP's Home & Family Expert; she splits her time between Washington, D.C., and Phoenix, Ariz., where she is caregiving for both of her parents who live with her. Her new book, AARP's Juggling Work and Caregiving, will be published this fall. Follow Amy on Twitter @amygoyer and on Facebook.
Also of Interest

Join AARP: Savings, resources and news for your well-being
See the AARP home page for deals, savings tips, trivia and more