AARP Survey: Grandparents Providing More Care, Money and Advice
By Amy Goyer , March 28, 2012 08:00 AM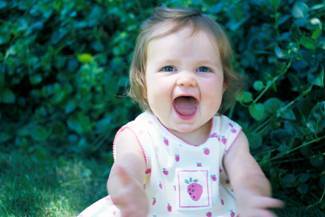 The results of a new AARP survey of grandparents released today highlight the roles they play in the lives of their grandchildren - and 90 percent say that role is an important one.
Surveyed grandparents were asked about their roles and the importance of their relationships with their grandchildren. Spoiling the grandkids is by far the tops (36 percent) - that view has stayed consistent over the years. It's the only role that grandparents seem to think is more theirs than that of parents or shared between grandparents and parents.
Coming in second is teaching their grandchildren about family history (28 percent), although 66 percent see sharing family history as a dual role between parents and grandparents. Another role grandparents see for themselves is giving special treats and gifts (28 percent.)
Money and the economy
Results show that grandparents still spend significant dollars on their grandchildren: 40 percent report spending more than $500 on their grandchildren over the last 12 months. The most common reason grandparents say they spend money on grandchildren is birthdays and holidays (95 percent.) No big surprise there. But a significant number of grandparents also provide necessities and critical needs of their grandchildren, which creates a safety net for grandchildren when parents can't quite take care of the basics, including:

Despite the economy, most grandparents agree they would make sacrifices rather than let their financial situation adversely affect their grandchildren.
Providing care
Not only do grandparents provide a financial safety net, they're providing a great deal of care for their grandchildren:

Nearly 1 in 6 grandparents provide daycare services for grandchildren when their parents work or are at school, and on average expect to provide care for about six years. Many provide "back up" care such as before/after school, holidays, summers and sick child care.
36 percent have provided such care in the recent past. Nearly half said they provided care just because they wanted to.
11 percent have a grandchild living with them; this jumps to 13 and 19 percent for Latinos and African American grandparents, respectively. 35 percent have had grandchildren living with them more than 5 years, and 47 percent also have the grandchild's parent living with them.

Communication
Grandparents aren't just telling silly jokes these days. More than half report conversations with their grandchildren include meaningful topics such as morals and values (78 percent), religion and spirituality (66 percent), and illegal drugs and alcohol (50 percent.) Even 37 percent talk about dating or sex with at least one of their grandchildren. They also talk about key issues such as staying safe (73 percent) peer pressure and bullying (53 percent) and health/obesity (61 percent.) Almost half (45 percent) talk about issues their grandchildren have with their parents.
A grandparent can be the caring adult who loves unconditionally and provides that listening ear that all kids need, which helps shape who they become as adults.
And how are they talking?

More than 80 percent report speaking to their grandchildren on the phone at least once a month or more often, with almost 60 percent phoning at least once a week.
A surprising 32 percent never send "snail mail" to grandchildren, such as cards and letters, although 23 percent do so once very few months.
More than a one-third have moved into the technology age - they communicate through new technologies such as Facebook, Skype, email and text messaging at least once a month. This is an area that I see as growing over the last decade; grandparents are moving more into the technology that is necessary to connect with grandchildren.
Activities and fun
The main activity grandparents report is watching TV and videos (75 percent) with the grandkids. They also love shopping (63 percent), outings such as movies and museums (55 percent) and playing video games (35 percent). But they do engage in more traditional activities like cooking/baking (58 percent) and attending religious services (47 percent). I see some really good news here too: 58 percent are physically active with grandchildren, getting involved in exercise, sports, gardening etc.
Here are some more interesting survey highlights:

Average age of a first-time grandparent is 47; about half are under age 50 when their first grandchild was born
Average age of a grandparent surveyed is 69
The majority of grandparents are married (55 percent); 40 percent are divorced or widowed
Most are retired (62 percent); 15 percent are working full-time
55 percent have education beyond high school; 44 percent have a high school education or less
Nearly half (46 percent) have a household income of $50,000 or less
The average number of grandchildren is seven; 55 percent have five or more grandchildren; almost a quarter have 10 or more grandchildren
Close to half of grandparents (46 percent) feel it's extremely important to be connected to their cultural, racial and ethnic heritage
Nearly 1 in 5 grandparents say they have grandchildren that are two or more races (18 percent) or a different race (17 percent) than the grandparent; 15 percent said they have grandchildren of different ethnicity than the grandparent.
The survey results make one thing clear: The importance of being a grandparent is more than a life stage, it's cherished role that changes with the times, both good and bad.
What about you? Do you fall in line with our study's findings? Tell us about it below.
Follower Amy on Twitter @AmyGoyer and Facebook www.facebook.com/AmyGoyer1