Help! My Loved One Can No Longer Manage Her Finances
By Elaine Ryan, October 12, 2015 10:48 AM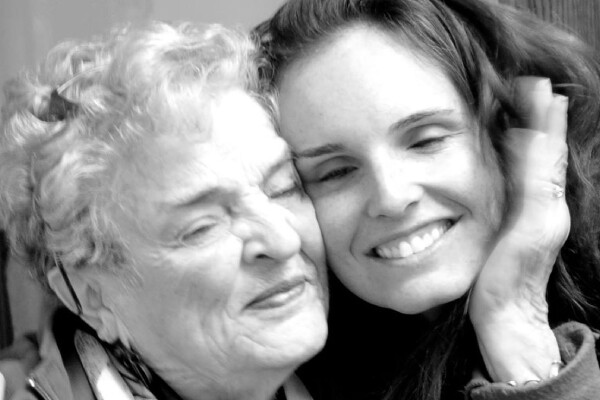 Jennifer had recently relocated to Wisconsin. When she went home to visit Grandma Jeanne and Grandpa Bill, she realized things were bad.

"There was an overdue bill on the counter, fruit flies in the kitchen, decaying boxes full of carryout in the fridge, and my grandpa, who had always been overweight, was looking downright thin. I was shocked," Jennifer shared on AARP's I Heart Caregivers.

Photos: A week in the life of a family caregiver »

"Long story short my grandma who had always paid the bills, cooked all the meals, cleaned the house, and kept things running, was showing the first signs of age-related dementia and my grandpa had been covering up her deficits to everyone for a long time."

Clearly this was an emotional day for Jennifer, but also a time for action so she could help Grandma Jeanne and Grandpa Bill continue to live independently in their community. "That was a hard day, but a turning point. We did 'all the things' you're supposed to do but avoid doing — set up the power of attorney forms, set up the wills. I learned all about my grandparents' finances and set up their accounts so that I could pay their bills online. It was exhausting."

A power of attorney is a legal document used by an individual (the principal) to name someone else (the agent) to make financial decisions on the principal's behalf. As Jennifer experienced, serving as an agent under power of attorney can be crucial and time-consuming. It's a legal tool for family caregivers to allow them to make financial decisions for a parent, spouse or other loved one, and sometimes, the responsibility extends to when that individual is no longer able to do so for him or herself.

A power of attorney can be set up to:

Plan for the possibility of needing help managing your finances
Put into action when someone immediately needs assistance, like in Jennifer's situation.
Without a doubt, navigating and managing someone else's finances can be complicated and full of paperwork. Because power of attorney laws vary from state to state, these challenges can be even harder for those caring across state lines. And the differences in state laws as well as lack of oversight can lead to terrible consequences — even abuse.

Get Help: Find out if you're eligible for public benefits with Benefits QuickLINK »

That's why AARP is fighting for the Uniform Power of Attorney Act (UPOAA), a law that contains 21 provisions to:

Protect against abuse and exploitation
Outline the duties of the agent
Support choice
Make sure power of attorney laws are consistent among states.
So far, 18 states have enacted UPOAA, the most recent being Connecticut. Public Act 15-240, Connecticut's uniform power of attorney act, was signed into law this year and will help family caregivers navigate financial challenges and add stronger consumer protections for older residents and their families.

"Challenges arise for me as power of attorney, and mountains of paperwork, but as long as she's safe I try to take everything in stride," Jennifer says of her grandmother. Read more of Jennifer's story.

Where does your state stand?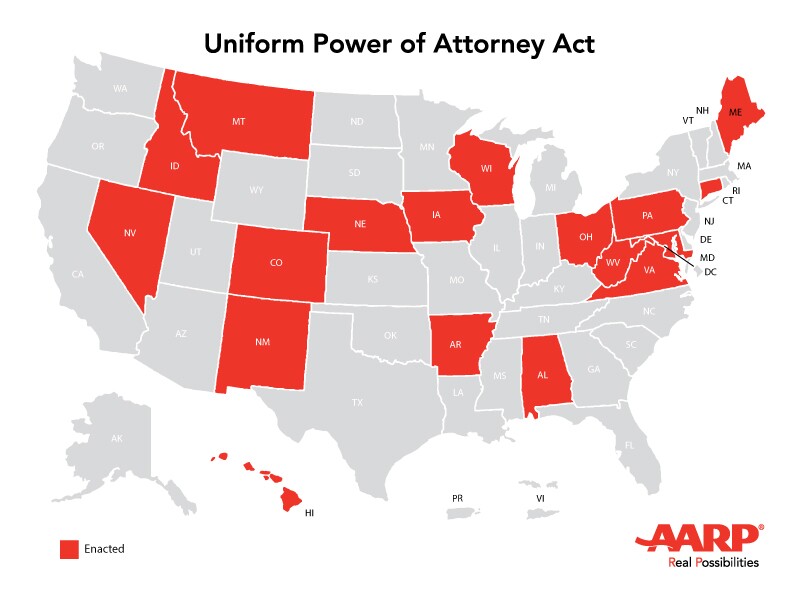 To find out more or help AARP fight for the Uniform Power of Attorney Act in your state, sign up to receive AARP's Action Alerts.


---

Elaine Ryan is the vice president of state advocacy and strategy integration (SASI) for AARP. She leads a team of dedicated legislative staff members who work with AARP state offices to advance advocacy with governors and state legislators, helping people 50-plus attain and maintain their health and financial security.

Follow Elaine on Twitter: @RoamTheDomes

A lso of Interest



See the AARP home page for deals, savings tips, trivia and more.