First-time Homebuyer: Where Do I Start With Improvements?
By Patti Shea , April 04, 2012 01:07 PM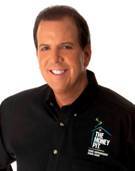 I just bought a house ... where do I start?
That's the question I'm going to ask Tom Kraeutler, one half of the fab duo of The Money Pit, who is hosting a webinar on home improvements on a budget.
I'm clueless on where to start. We had to fix up a bathroom thanks to a 1980s sink but other than that, I dont' know if I should replace the floors first or paint or fix up the yard/driveway or put in closet organizers or the main bathroom. The house isn't in bad condition, just needs to be youthened (my invented word :)) up. HELP ME, Tom!
Also, my parents live with me so I'll want to know what low-cost (really emphasis low-cost) updates I can make to make the house safer for my mom and dad yet not seem to institutional. I want it safe and pretty.
Need the details? Here you go:

When: 7 pm ET on Thursday, April 12.
Who: Any homeowner, new or experienced ... especially caregivers!
How: RSVP here, write on your calendar, keep your PIN and come with questions. (If you want to submit a question early, email: eandoweb@aarp.org)
Whether you are a DIY weekend warrior or new to home repair, this home improvement webinar is for you! See you there!