How Complete Are Your Streets?
By Patti Shea , August 16, 2011 05:59 PM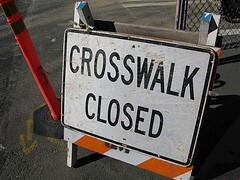 I've done it. You've done it. Most Americans have probably done it. So, what's the big deal?
I'm talking about jaywalking. And not the kind Leno does on the Tonight Show.
Every day there are stories about pedestrians and bicyclists being struck because of distracted drivers, poor lighting or shoddily maintained streets. Unfortunately there are often no crosswalks, usable sidewalks or bike lanes. A New York Times story focuses on Orlando, no doubt a city with tons of tourists and residents of all ages.
Cash-strapped municipalities often can't keep up with the needs of growing (and aging) populations. Drivers are frustrated with traffic and sometimes take it out on pedestrians, crossing legally or illegally. And pedestrians ­-- they're just trying to cross the road. Would you walk half a mile mile to use a crosswalk to only have to walk the half mile back to your destination?
AARP works with Complete Streets, a national non-profit that aims to make streets suitable for everyone -- the old, the young, the bicyclist, the bus rider. We especially worry about older pedestrians with walkers or wheelchairs. Do the crosswalk signals in your town give them enough time to cross? Likely, no.
Citizens need to take take charge of their own streets. The good folks of AARP New Jersey are taking action to help.
Next week volunteers, policymakers and state transportation officials will comb the streets of Mays Landing outside Atlantic City to audit the intersections, including the second most dangerous road in the state, according to the Tri-State Transportation Campaign. There have been 13 pedestrian fatalities in the area over the past three years, the campaign found.
The audit will focus on sidewalks (are they properly maintained, are they even there), crosswalks (proper lighting, enough time for the elderly to cross, proper visibility, etc.), and medians (is there enough pedestrian standing room). Most full-time drivers don't even think about sidewalks, but it's a different story if walking is your main way to get around.
What can you do? You can recruit neighbors and friends  to survey your own town with this checklist. The September 11 Day of Service is coming up -- a perfect time for a stroll around your neighborhood for a bigger purpose. Complete the survey and send it to your city council, county supervisors, state legislators and members of congress. Your neighbors -- especially those who walk, or want to do more of it -- will thank you.