Drive To End Hunger Food Drives Take California
By Patti Shea , March 25, 2011 02:40 AM
Non-race fans and race fans alike peeked with great interest inside the AARP Drive to End Hunger No. 24 car today at a food drive in Fontana, Calif, site of Sunday's Auto Club 400.
While four-time NASCAR champ Jeff Gordon wasn't there, his fans donning jackets, buttons and T-shirts took several self-portraits with the burgundy and black Chevy Impala and the-can't-be missed bright yellow 2-4.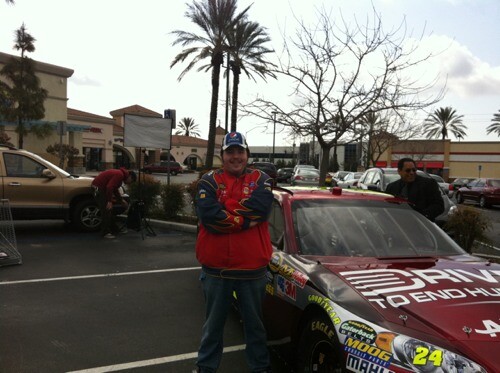 The food drive benefitted the Second Harvest Food Bank of Riverside, which distributes roughly 23 million pounds of food each year. They also deliver goods to some 4,000 low-income seniors. Six million people aged 60+ struggle daily to provide food for themselves or their family. In California, 19.9 percent of its residents reported not having enough money to buy food last year and is ranked 18th for senior risk of hunger.
If you can't make it to a Drive to End Hunger event, you can always donate by texting "HUNGER" to 50555. Get event information, Jeff stats, and other fun facts by following Drive to End Hunger on Twitter ( @drive2endhunger) or on Facebook ( www.facebook.com/DrivetoEndHunger)