Know the Signs of Child Sexual Abuse
By Amy Goyer , June 13, 2012 02:54 PM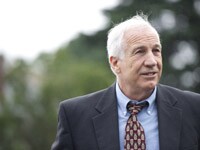 Sadly, child sexual abuse is in the news once again. In Pennsylvania, trial of former Penn State football coach, JerrySandusky, is underway. In New York, allegations of decades-old abuse at an elite private school have recently surfaced.
The headlines are reminding us how vulnerable kids can be. We teach them to trust and revere the adult leaders in their lives - family members, coaches, teachers, babysitters, clergy and other leaders in our community. But sometimes these trusted adults are the very people from whom we need to protect our children.
All adults members - including parents, grandparents, aunts or uncles - can be helpful in preventing and spotting the signs of sexual abuse in the children we love. Here are some key steps you can take and signs to look for. Keep in mind that family members should first consult with a child's parents before taking any action.
Prevention

Educate yourself about sexual abuse. Understand the broad range of sexually abusive acts, including fondling, forcing a child to touch an adult's sexual organs, sexual intercourse, sexual exploitation, forced prostitution, forcing a child to pose for pornographic films or photos, indecent exposure or exhibitionism, exposing a child to the act of sexual intercourse, masturbation or pornography. Sexual abuse may involve physical force, bribery or intimidation but may also be very subtle.
Be aware. Know where your children and grandchildren are at all times. Do your homework about the location of sexual offenders in your community by visiting the National Sex Offender Public Website. If there are known offenders near you, learn about how to handle the situation at Stop It Now
Remember that child abusers and sex offenders can be anyone in our families or community - older siblings or cousins, extended family members or close family friends, male or female and all races and socio-economic levels. Also keep in mind that children of all ages can be victims of sexual abuse, even infants or strong teens.
One commonality among sexual abuse cases is that victims quite often know their abusers. Experts say abusers are most frequently adults our kids trust. Get to know the adults in their lives and observe the kids interacting with them. If you notice a child is uncomfortable or hesitant around an adult it could be a red flag.
Talk to the children about appropriate sexual behavior and be specific. Make sure they know when to say "no" if someone wants to touch them improperly. Tell kids how to get help if someone is making them uncomfortable or scared or touching them in the wrong ways. Start these conversations at a very young age and repeat them often, using age-appropriate language and levels of detail. The more comfortable our children are talking about sexual issues in general, the more likely they will feel safe telling us about abuse.
Signs of Sexual Abuse
Sexual abuse is usually uncovered when either a victim self-reports the abuse, someone witnesses the abuse or observes key behaviors that cause suspicion and investigation, or when a child contracts a sexually transmitted disease or becomes pregnant. Keep in mind that the signs of abuse may vary according to a child's age. Look for:

Behavioral changes. Such as unusually excessive crying, fear of certain people or places and possibly refusal to go there, regression to behaviors a child has previously grown past (such as thumb-sucking, stranger anxiety, aggression or domineering behaviors, refusal to cooperate) acting much older than they are, depression or withdrawal, nightmares, feelings of shame or guilt, excessive protective behavior for siblings, running away from home, or trouble in school.
Health issues. Such as vomiting, bowel problems, bed wetting, sleep disturbances, substance or drug abuse, eating disorders, excessive washing, chronic headaches or stomach aches.
Sexual issues. Sexual abusers often groom their victims through regular interaction and have a level of control over these children and youth that scares them so much they will not tell anyone. The most important thing we can do to protect the children we love is to be open and aware, listen and ensure they feel safe talking with us about sexual issues or reporting abuse. If you suspect a child in your family is being abused, get a medical and psychological evaluation for the child right away and report the abuse to the authorities.
Resources: