The Latino Buzz on Hollywood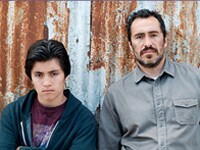 I have to confess that I am a film aficionado, particularly on films that center around the Latino experience in the U.S. With the film award season upon us, Latinos are being recognized for their talent and excellence on and behind the silver screen. And what a year it has been for Latinos in film.
The Academy Awards nominees were announced yesterday with great news for Latinos. The Argentine-born actress Bérénice Bejo was nominated for the Best Supporting Actress category for her role on the movie " The Artist." She is known for her participation in the 2001 film, "Christiana" and also "A Knight's Tale" with the late Heath Ledger. I feel so proud that a talented Latina is competing head-to-head with accomplished and talented actresses like Octavia Spencer and Melissa McCarthy.
Equally important, the Mexican actor Demián Bichir was nominated for Best Actor in a Leading Role for his performance in "A Better Life." He portrays an undocumented gardener who struggles raising his teenage son while facing problems with gangs and an unforgiving society. In a video interview with AOL Latino, Bichir says this was his first role in a Hollywood movie and that his character, "Carlos Gallindo," personifies the courage held by many immigrants. Other nominees include Fernando Trueba and Javier Mariscal with the only Spanish-speaking feature film to receive an Oscar nomination this year with Chico y Rita, Mexican cinematographer Emmanuel Lubezki, Brazilian musician Sérgio Mendes and Spanish composer Alberto Iglesias.
Lastly, 2012 film festivals are off to a wonderful start for Hispanics. This year at the Sundance Film Festival, 18 films and documentaries are showing, featuring Hispanic talent (in front or behind the lens). One of the most controversial entries for this year is a movie by Chicana filmmaker Aurora Guerrero called "Mosquita y Mari." This film chronicles how two young high school Latinas from L.A. deal with their same-sex attraction and emotional awakenings. These are powerful and relevant subject matter that deserve to be told.
Congrats to all the nominees and let's cheer together for all the Latinos making it in Hollywood. Keep up with the world of cinema and television by visiting our entertainment page on AARP.org en español.
PS. The AARP Movies for Grownups Awards honors upbeat films that keep our community vibrant and optimistic. Check it out!
Photo Credit: Courtesy of Summit Entertainment