Learning to Say No to Doctors
By Chuck Ross , March 08, 2013 06:00 AM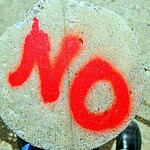 Through a post on the New York Times' New Old Age blog, I learned of a great initiative by the American Board of Internal Medicine (ABIM) Foundation to help patients understand they're allowed to just say "no." The effort is called " Choosing Wisely," and it's bringing together many medical specialties to help patients and doctors understand when specific tests and treatments do - and don't - make sense. (AARP also has covered the program).
If you've spent any time helping an elderly parent or other loved one manage their own medical care, you'll likely see the value in this effort right away. Older folks often have multiple chronic conditions, each with their own attending specialists and regular testing regimes. At one point during the time my father lived with me he was seeing a cardiologist, a pulmonologist (lungs), a nephrologist (kidneys), a urologist (chronic urinary-tract infections), vascular surgeon (circulatory issues) and a podiatrist ( diabetic foot issues) - on top of his primary care physician. (I wrote about Dad's plural-marriage arrangement with his many doctors in my own blog.) Each quarterly appointment (except with the podiatrist) required its own tests in advance. And each appointment generally concluded with a similar summation: "Well, Mr. Ross, looks like you're in your late 80s, not in great shape, but still alive. We'll see you in three months to see if that's still the case."
The routine eventually became exhausting for both of us. I went with Dad to every appointment, which became incredibly disruptive to my own work. And Dad just began to not see the point of it all. Finally, in the last year or so, we both began learning to say no. A more aggressive lung test to try to figure out whether shortness of breath was more related to diagnosed congestive heart failure or pulmonary issues? Why? No, thanks. And, actually, while you're a very nice guy, we think we'll back out of this particular quarterly appointment cycle. Once Dad was in the nursing home, we axed all but the primary care doctor off the list - the trips were disruptive and expensive, since Dad needed wheelchair transport, and neither of us saw the point.
But that quarterly appointment cycle is like an assembly line, and it can take real willpower to remove yourself from it. The appointment representative for the cardiology practice sounded completely incredulous when I told her we were opting out of the next visit. Fortunately, Dad was cogent through to the end, and I knew I was acting on his wishes - this would have been much more difficult had his mental state been impaired.
That's why I think the "Choosing Wisely" program is such a great idea. Even better, its organizers are working with Consumer Reports Health Ratings Center to develop information in clear language we all can understand. This material could be a great foundation for conversations with family members and medical professionals in those times when enjoying what's left of life has become a higher priority than simply prolonging life.
Photo source: Marc Falardeau via Creative Commons
Follow Chuck at chuck-ross.com, his blog Life With Father or on Twitter