Part 1: How a High Schooler Used Social Media to Help Seniors, One Shoe at a Time
By Patti Shea , December 05, 2012 05:08 PM
Editor's note: We asked Matthew Walzer to tell us his story about how he got Nike to pay attention to the basic needs of the disabled. What he has done will help thousands of older people who have problems daily putting on shoes.
I am a 17-year-old Florida high school student who has cerebral palsy from a brain injury at birth. I weighed 2 pounds, 14 ounces with severe lung dysplasia. Doctors feared I wouldn't make it through the night and I spent six months in the neonatal intensive care unit (NICU).
Today, after grueling physical therapy and numerous surgeries, I hav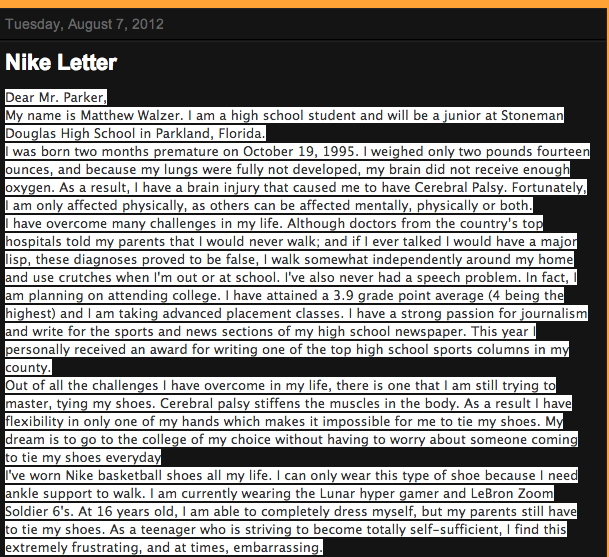 e gone from someone who doctors feared wouldn't live 12 hours to someone who is not only able to walk with the assistance of crutches, but also can succeed in honors classes. But there is one challenge that I have been unable to overcome: tying my shoes.
Due to the fact that I use two crutches to walk, I need shoes that provide substantial ankle support to help me walk properly, but I didn't want to sacrifice style. (I am in high school after all.) There are many types of these shoes on the market, high-tops and low-tops, all with different technologies that provide different levels of support and comfort. Despite all this variety, these shoes all seem to have one thing in common: laces.
Unfortunately, my cerebral palsy has left me with the use of only my left hand. As you can imagine, it's virtually impossible to tie a shoe with one hand. After living with this for all these years, it came to a point where it was not only inconvenient, but socially embarrassing. On Aug. 4, after talking to my mom, I knew it was time to accomplish what I set out to do the year before: Write a letter to Nike CEO Mark Parker addressing this issue.
I had tried to write this letter before, but could not come up with anything that I considered powerful enough to be read by Mr. Parker. On this Saturday night, however, everything just came pouring out, and I was able to express what had been bothering me for all these years. I chose Nike because not only are they the largest athletic wear brand in the world, but year after year the company delivers some of the most innovative products in sports.
I did not want to keep this special letter just between my family and me, so I posted the rough draft as a status on my Facebook page. All of my friends were amazed at my letter, and began telling others about it. I received so many friend requests from people in my hometown who wanted to read my letter, I figured that it would make everyone's lives easier if I just posted it on a public outlet, so I posted it on my sports blog, Against All Odds. This started the beginning of what I call the perfect accident.
Once I put it up there, so many people were inspired by it that they tweeted about it in order to share it with as many people as they could. My letter continued to spread, so I came up with the Twitter hashtag #NikeLetter to help people identify tweets about it. Many people immediately caught on, and my cause spread to the Twitter accounts of Nike and its related entities, as well as celebrities such as Oprah and Justin Bieber. #NikeLetter began trending on Twitter, worldwide!
Three days later, my favorite sneaker website, NiceKicks.com, posted a story, "High School Student Writes Letter to Nike CEO." I clicked on the link and was amazed to see that they wrote a story on my letter, which I had not even sent to Nike yet! After reading the article, I immediately checked over the letter and emailed it to Mr. Parker. What happened next has changed my life forever.
Stay tuned for Part 2 of Matthew's amazing story: A shoe without laces.