Military Caregivers Need More Support, Study Shows
By Sally Abrahms , April 01, 2014 10:54 AM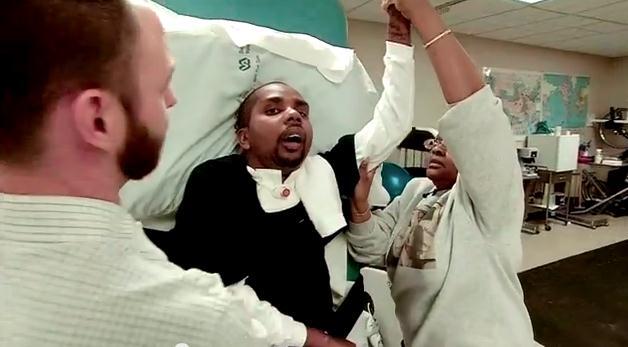 The family members who provide care for the nation's wounded veterans of the Iraq and Afghanistan wars need more support than they're getting, says a study of military caregivers released today by the RAND Corporation. The largest-ever survey of more than 1,000 military caregivers found that 25 percent are soldiers' parents, many of whom are growing older themselves and who will not always be up to the task .
"These post 9/11 caregivers are providing invaluable support to the veterans they're caring for," says Rajeev Ramchand, a behavioral scientist at the RAND Corporation. "If we don't step up to support them, their health and well-being will deteriorate. If that happens, the care they provide also deteriorates." If that happens, "veterans risk institutionalization, homelessness, morbidity and early death," says Ramchand. "Individuals need to plan for their future, but so does society."
>> Sign up for the AARP Health Newsletter
According to RAND research, about 5.5 million informal caregivers care for vets with disabling illnesses and injuries. Nearly 20 percent of them take care of someone who has served since the 9/11 terrorist attacks.
In this latest RAND study Hidden Heroes: America's Military Caregivers, conducted last summer and fall, vets ranged from age 18 to 55. Forty-six percent of post 9/11 care recipients were ages 18 to 30, 48 percent were age 31 to 55 and six percent were age 56 to 65. Caregivers interviewed included family members (spouses, siblings, parents, children), friends and neighbors; 30 percent were under age 30.
Today's study, funded by the Elizabeth Dole Foundation, sought to understand the needs of mentally and physically injured or ill vets and their families. The report looked at current policies, programs and initiatives that support veterans, and ways to ensure the well-being of military caregivers now and later.
One reason RAND decided to conduct this research is because of the lack of public or private programs that target military caregivers. Services are more typically devoted to other kinds of caregivers, such as those who take care of people with dementia or cancer. But veterans have different issues, often behavioral health conditions such as depression and PTSD, as well as traumatic brain injury.
>> Get discounts on health services with your AARP Member Advantages.
Included in the report were these recommendations:

Find ways to build military caregivers' confidence and skills, lessen their stress and educate the public about their value
Enlighten health care providers and employers about caregivers' roles and encourage them to be accommodating
Make sure caregivers are eligible for programs and, while they're at it, expand respite services; typically, military programs are geared to the service member or veteran. Find and create programs and ways that help reduce their caregiving load, provide them health care and offset lost income.
Think about the future when parents can no longer take care of their sons and daughters, and anticipate the needs of tomorrow's military caregivers who may be under siege in a quickly changing political and fiscal climate.
Sally Abrahms covers boomers and aging, focusing on caregiving and housing. She is a contributor to the newly released Not Your Mother's Retirement. Follow her on Twitter.
Also of Interest

See the AARP home page for deals, savings tips, trivia and more