Multigenerational Living: On the Rise
By Amy Goyer , August 10, 2012 06:01 AM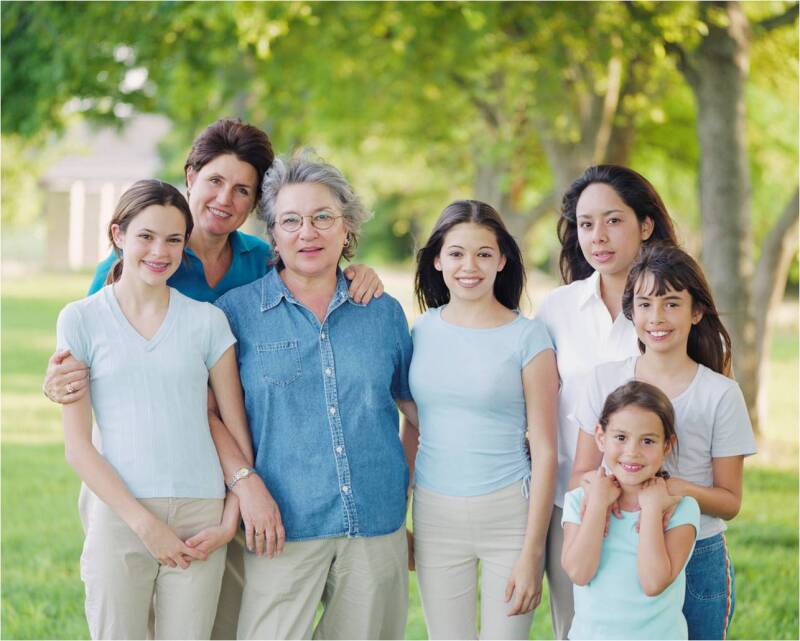 Editor's note: This post is modified from Amy Goyer's article, Multigenerational Living Is Rising, and May Be to Everyone's Benefit in the September/October 2011 issue of the American Society on Aging's Aging Today magazine.
Laura and Paul Patyk, both in their mid-40s, have a full house. With six children, any home would be a bit crowded. But in 2003, the Patyks invited Laura's parents to live with them when her mother became ill with congestive heart failure and a stroke. A few years later, Paul's father, who had Alzheimer's disease, moved in after Paul's mother passed away, bringing the household's number to 11.
"Every day is an adventure here," says Laura, "with never a dull moment." Paul added a 1,500-square-foot suite for Laura's parents. "Dad paid for it with money from their home because he insists on paying their way," says Laura. They have a kitchen, bedroom, office, handicapped bathroom, family room, screened porch and workshop. It's the ideal situation for keeping a level of independence and privacy, while still being close. Paul's father passed away in 2009, but their house remains packed, with 10 people ranging in age from 6 to 84.
Decades ago, the Patyk's story might not have been unusual. According to a recent Pew Research Center report, in 1900, 57% of Americans ages 65 and older lived in homes with their children, grandchildren or other family members. In the 1930s, when my mother was young, her grandfather lived with her family. But families began to change. The post-World War II period brought the GI Bill, more education, and loans to buy homes and start businesses. Many families scattered across the United States.
It was no longer taken for granted that mom and dad would move in with their children and grandchildren when they needed support. And better medical care meant older adults could remain independent for longer, plus Social Security and Medicare kept more elders out of poverty. By 1990, only 17% of those ages 65 and older lived with their families.
That downward trend has now reversed, and multigenerational households are on the rise.
Why the Increase?
There are a number of factors that explain the increase in America's multigenerational households: immigration; the delayed marriage pattern; longer life expectancy; the housing crisis; "boomerang" youth; women entering the workforce; and the effects of the recession.
As America's race and ethnicity demographics have changed, in part because of increases in immigration since the 1970s, we see more multicultural families with cultural norms of multigenerational living. According to the Pew Research Center, in the United States, 25% of Asians, 23% of African Americans and 22% of Hispanics live in multigenerational homes, in contrast with 13% of whites.
People are marrying at older ages. According to the U.S. Census Bureau, in 1970, men typically married at age 23 and women at age 21. By 2010, those numbers were up to age 28 for men and age 26 for women, increasing the odds that these young adults are remaining in the family home for an additional five years.
The longevity revolution is having an impact; life expectancy rates are extended. The U.S. Census Bureau data indicate that in 2007 the number of older adults who moved in with their adult children was 3.6 million - a 67% increase from 2000 (2.2 million).
And factor in the effects of the housing crisis: many families who lost their homes in recent years were forced to combine households. According to S&P/Case-Shiller Home Price Indices, prices have fallen 33% since the market began its collapse, worse than the 31% drop in the Great Depression.
A significant number of young adults, ages 18 to 29, are taking longer to assume the full responsibilities of adulthood. This cohort, which isn't fully independent, often ends up back home with their parents after college, and these "boomerang" youth have been the fastest growing segment of multigenerational households in recent years. A dearth of job opportunities and increased education costs have contributed to this trend.
Women are entering the workforce in ever larger numbers: the Department for Professional Employees, AFL-CIO, reports the number of working women has risen from 5 million in 1900 to more than 18 million in 1950, to 66 million in 2009. The projection by 2018 is more than 78 million. As more women work outside the home, their child-rearing role has had to change, with grandparents and other family members often stepping in to fill the gaps in child care.
The Great Recession has spurred the growth in multigenerational homes. Pew reports that the numbers of people living in multigenerational homes has been on the rise during the economic downturn, with an increase of 2.6 million people between 2007 and 2008. As well, the recession has influenced a record high unemployment rate for young workers ages 16 to 24. As recently as January 2011, the U.S. Bureau of Labor Statistics reported an unemployment rate of more than 18% for that age group - double the overall rate.
Parsing the MultiGen Data
There are many ways to view multigenerational data - surveys and studies look at multiple generation homes; older adults who move in with their children; young adults who move back in with their parents (some bringing their children along); and grandparents who live with grandchildren (with or without a parent also in the home.)
But any way you dice it, the data show multigenerational living on the rise.

In June 2011, U.S. Census Bureau released their Living Arrangements with Children report with data from 2009 reporting that 7.8 million children were living with at least one grandparent - a 64% increase since 1991 (4.7 million children.) Of these children, 76% were also living with at least one parent in multigenerational households.
In April 2011, AARP's Public Policy Institute issued a fact sheet finding that in 2000, 4.8% of all households (5 million households) were multigenerational. By 2008, it was 5.3% and by 2010, 6.1% (7.1 million households.) The growth rate between 2008 and 2010 was more rapid than in the preceding eight years combined.
In March of 2010, The Pew Research Center found that 32 million individuals in the United States were living in multigenerational homes in 1940 and1950 - about a quarter of the population. Those numbers dipped to 26 million in 1970. But multigenerational homes hit 35 million in 1990, and escalated to 49 million (16% of the population) in 2008. Between 2007 and 2008, there was an increase of 2.6 million.
According to Pew's 2010 report, in 1980 just 11% of adults age 25-34 lived in a multigenerational family household. By 2008 that percentage nearly doubled to 20%. From 2007 to 2008, adults ages 25 to 34 living in such households rose from 18.7% to 19.8%.
Watch for my next post delving into the benefits and challenges of multigenerational living with some tips for making the most of it.