NBC Highlights Caregiving Campaign - And My Family!
By Amy Goyer , August 15, 2012 03:02 PM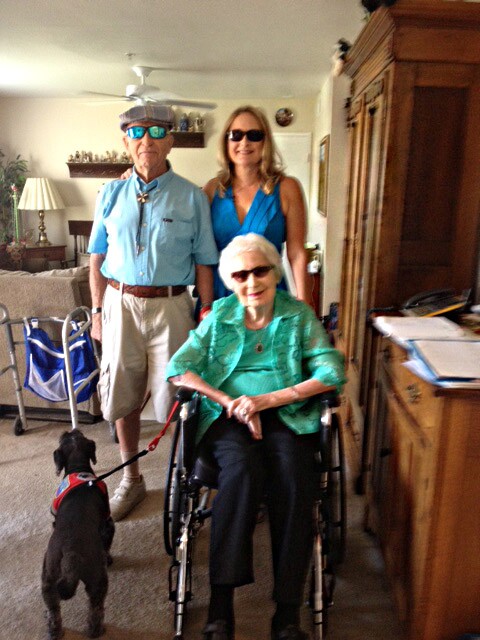 AARP and the Ad Council are teaming up to raise awareness about the 42 million Americans who care for a loved one - people like me who are family caregivers. This campaign is designed to help us find the quality information, resources and support that we desperately need.
As part of my work with AARP, I am serving as a spokesperson for this campaign - and I couldn't be more thrilled. It's the quintessential convergence of my personal and professional lives. I'm deeply passionate about caregiving, as a professional in the field of aging and multigenerational family issues for more than 30 years now. But more significantly, I am a caregiver myself - for my grandparents in the past and now for my parents. In fact, you may have seen my mom and dad and me on the NBC Nightly News recently!
NBC came to Arizona to tape me with my parents. It was, of course, a bit grueling: We spent almost five hours being trailed by a camera! But it was also exciting and fun. (Who knew Dad could be such a ham?) Actually, we've been doing stuff like this for awhile. Many years ago, we discussed our family's willingness to share our story to help others, so my parents participate in my blog and are graciously up for about anything. We hope that telling our story to the public will make millions of people who are caregivers realize they are not alone.
The care we provide to our loved ones is hard work. A new poll released in conjunction with the AARP and Ad Council public service announcement (PSA) campaign found that most of us say caring for our loved ones is difficult, two-thirds of us care for those with chronic illnesses and one-third are caring for those with dementia. The average caregiver is a 49-year-old woman who spends 20 hours a week taking care of an adult family member or friend, and this recent poll found one-third of caregivers devoting 40 or more hours a week - I certainly fall in that category. It's the equivalent of a full-time job - and many of us are working another full-time job, not to mention our other family and relationship responsibilities. I engage in both long-distance and hands-on caregiving with my added challenge of business travel. It's exhausting, overwhelming and incredibly isolating. But, as any caregiver will tell you, it also is incredibly rewarding.
Our poll shows that caregivers admit that they need help, and yet two-thirds haven't actually reached out to look for resources. (I think most of us are just too tired and unsure where to go.) That's why AARP has created an online Caregiver Resource Center. Its virtual doors are open 24/7 so you can find information, resources and other helpful Web tools whenever you want. Two of my favorites are the Care Provider Locator tool, where you can find home care, housing and other services; and Many Strong, which can help you manage your loved one's care by building an online community.
Every caregiver's journey is unique and we all have hard-earned tips and advice to share. So AARP has created an online opportunity to share your stories, as well as an online community group in which experts and caregivers like you and me ask and answer questions and share our creative strategies, our triumphs and our challenges. We want to hear from you - help us create connections and resources that will really help you.
As I embark on this campaign with AARP and the Ad Council, I am honored to do my part in helping caregivers connect with crucial lifelines. I hope you'll join me in this effort - together we are stronger.