New Tools for Family Caregivers—the Promise of Telehealth
By Elaine Ryan, February 29, 2016 01:00 PM
Across the country, about 40 million Americans are doing an overwhelming, stressful and exhausting unpaid job every day. They cook meals, drive to appointments, manage medication, perform complex medical tasks and more. They help parents, spouses and other loved ones live independently at home — where they want to be. They are family caregivers.

Kimberly cares for her son, husband and mother, all while working full time.

"That's my life, I get up each day, check on my son about 5:30 a.m. — head off to work around 7 — I then run home at 10:15 each morning make sure my son is fed, and out of bed, 3 days a week he comes to our memory program, vitamins taken and off to work."

Yvette cared for both of her parents while also raising her children.

"The tough time was the exhaustion — the constant lifting, the lack of sleep. I had epilepsy. When you have a seizure disorder and lack of sleep, there was a delicate balance. I needed respite care. There were no resources in the community. I ignored my health and took care of them."

Telehealth, a new tool for family caregivers
Last week in Boise, Idaho, hundreds of family caregivers — with stories like Kimberly's and Yvette's — gathered to share experiences and hear ideas to make their journey a little bit easier. Transportation, access to health care, limited relief and home services are challenges they face every day.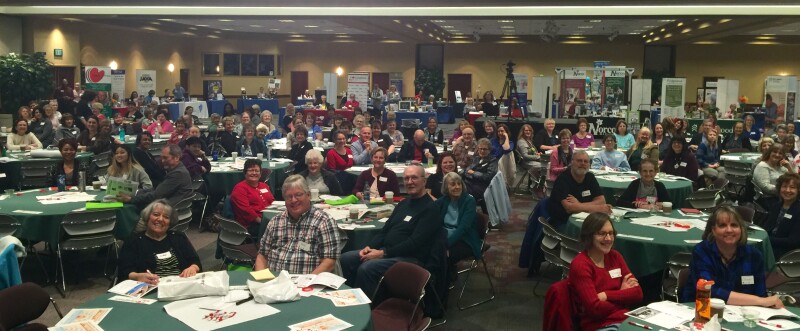 I spoke to these unsung heroes about the promise of telehealth — and how it can be an effective tool for family caregivers and their loved ones alike. But what exactly is telehealth? It's using digital information and communication technologies, such as computers and mobile devices, to manage your or your loved one's health and well-being. Telehealth can include a variety of tools, like video or online visits with health care providers and more.

Here's a few ways telehealth can help:

Whether it's hundreds of miles or 10, telehealth can bring health services to family caregivers at home.
When specialty care is difficult to access, telehealth can bridge the gap, helping you find the care you or your loved one needs.
When family caregivers sacrifice their own health care to care for others, a teleheath visit via phone can help them save time and still take care of themselves.
Working and long-distance family caregivers can virtually join their loved ones' medical visits, so they can help manage their care.
Telehealth can mean less time and energy spent getting to and from doctors' appointments, less anxiety, stress and isolation, better physical health for family caregivers, and more.

Unfortunately, in many states outdated rules and regulations prevent family caregivers from realizing the full promise of telehealth services. But change is sweeping through state legislatures, with hundreds of proposals to modernize access to care. Right now, AARP is advocating in Colorado, Idaho, Indiana, Massachusetts, Mississippi, Florida, Oklahoma, Rhode Island, South Dakota, West Virginia, Wyoming and more to provide family caregivers with more options to care for their loved ones and themselves.

How would telehealth help you as a family caregiver? Share your story and help us fight for caregiving families at aarp.org/iheartcaregivers.

If you're a family caregiver, you're not alone.

---

Elaine Ryan is the vice president of state advocacy and strategy integration (SASI) for AARP. She leads a team of dedicated legislative staff members who work with AARP state offices to advance advocacy with governors and state legislators, helping people 50-plus attain and maintain their health and financial security.

Follow Elaine on Twitter: @RoamTheDomes

Photos: Elaine Ryan, mobile health icons/iStock