Our Battle with Food - Is It Cultural or Dietary?
Food. It's one of our passion points, how we connect on an emotional level. It's at the center and heart of every birthday party, wedding, baptism, funeral, and every social gathering you can think of. Today online platforms like Pinterest, Facebook, YouTube, blogs, and other innovative social media channels simplify meal preparation for these special occasions making recipe swapping even more popular than ever. As fun as it is to experiment with new recipes, we should be conscious and aware of the nutritional value of what is actually being prepared.
The reason why it is important to pay attention to our food intake is because as a community we have a propensity to acquire certain serious diseases such as diabetes and hypertension without even knowing it.
I recently read an article about how Hispanic mothers are having difficulty adapting to U.S. food culture. The article highlights that while trying to stay true to their Hispanic roots, most children's eating habits are being heavily influenced in their schools, in the home of friends, and by what they see on TV, hear on the radio, or see on the internet. Why is this a matter of concern for Hispanic moms? Moms know that instilling good eating habits during childhood tends to follows them into adulthood.
While some people are quick to attribute most health issues to fast food places for the convenience and value offered at these restaurants, I wonder: Is this really what is causing the health risks?
Probably not. The reality is that several members within our households are sometimes working long hours to make ends meet. Trying to coordinate household schedules has become increasingly difficult, and planning a family dinner gets even more complicated as dinner time is not a set time nowadays. In between parent teacher conferences, our kid's soccer games and after-school programs, and on top of all that, a full day's work, we are at the point of exhaustion. Then, a fast food meal is usually a good way to go. Or so we want to think...
While the convenience factor plays a part, portion control is another important part of the equation. During Latino celebrations and festivities, home-style cooking almost always results in going for seconds. Culturally speaking, finishing off a hefty plate is considered a symbol of good health and appreciation for the cook. For Latinos, this mindset gives us permission to overindulge especially when it comes to authentic and traditional meals that are rich in carbs and fats.
Lucky for us, today we have access to many tools that can help us out in our battle with food. Celebrity chefs and mommy bloggers are sharing home-style cooking by offering up recipes with healthier ingredients, and cooking alternatives such as baked vs. fried.
At AARP, we are excited to be a part of the solution by offering recipes from our celebrity chefs for anyone who enjoys Latin cuisine. AARP en Español has launched a brand new YouTube channel, with our very own food expert, Denisse Oller. She will lead the lineup in her weekly series, Secretos de Cocina con Denisse, where she will be sharing all of her favorite cooking tips and recipes from her cocina latina available at www.aarp.org/denisse.
To get you started on cooking up healthier meal options in less than 30 minutes, I leave with you a couple of our delicious Latino recipes to savor:
Healthy Chicken Chimichangas
Instead of deep-frying, as it is traditional, these healthier chimichangas are brushed with some olive oil and baked.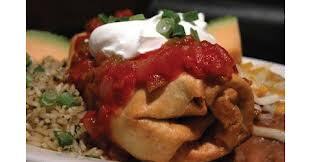 INGREDIENTS:
1 can reduced-sodium chicken broth
1 large boneless, skinless chicken breast
3/4 cup salsa, plus more for garnish
1 tsp. ground cumin
1/2 tsp. dried oregano
1 cup shredded light or reduced-fat Cheddar cheese
1/4 cup finely chopped scallions, plus more for garnish
6 flour tortillas (6 to 8 inches)
2 tbsp. olive oil
Reduced-fat or nonfat sour cream
Shredded lettuce
PREPARATION:
1. In a medium saucepan, combine broth and 1 can of water and bring to a boil over medium-high heat. Add chicken, reduce to a simmer, and cook for 12 minutes. Remove from heat and let cool in poaching liquid for 15 to 30 minutes. Shred chicken using two forks.
2. Preheat the oven to 400°F. In a large bowl, combine chicken, salsa, cumin, oregano, cheese, and scallions. Divide the mixture into 6 portions. Place 1 portion filling in the center of a tortilla; fold left and right sides of tortilla over filling, then fold tops and bottoms over sides to form a square, securing with a toothpick if necessary. Repeat for remaining tortillas.
3. Place each chimichanga seam-side down on a baking sheet and brush with olive oil. Bake for 25 minutes or until golden brown. Garnish with scallions, salsa, sour cream and lettuce.
Quick Shrimp and Tomato Stew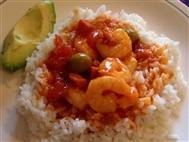 This shrimp and tomato stew is great for a quick mid-week meal. It's ready in less than 30 minutes and tastes great over white rice with a slice of avocado or tostones. For the canned stewed tomatoes below, I like to use the kind that is flavored with onions, celery, and green peppers.
Prep Time: 10 minutes
Cook Time: 15 minutes
Total Time: 25 minutes
Ingredients:

2 tablespoons olive oil
4 tablespoons sofrito
2 bay leaves
5 to 10 manzanilla olives (pimento stuffed)
1/4 pound smoked ham (diced)
1 packet sazón
1 cup tomato sauce
1 can (14 1/2 ounces) stewed tomatoes
1 pound raw shrimp (medium size, peeled and clean)
salt to taste
pepper to taste
Preparation:



1. In a soup pot, heat the olive oil. Add the sofrito, bay leaves, olives and ham. Sauté over medium heat for 2 to 3 minutes.

2. Add the sazón, tomato sauce, and stewed tomatoes. Bring to a boil and them immediately reduce heat and simmer for about 5 minutes.

3. Add the shrimp and cook until it just turns pink - about 5 minutes.

4. Add the salt and pepper to taste and allow simmering for 1 more minute.

5. Serve hot.
Want to find more? AARP recommends that you check out 16 foods for a long and healthy life; and don't forget to subscribe to our new YouTube channel!