Future Housing Market Depending on Boomers
By Patti Shea , January 24, 2013 07:47 PM

LAS VEGAS - The National Association of Home Builders says the future housing market will depend heavily on baby boomers.
Paul Emrath, vice president of survey and housing policy research for NAHB, expects the number of single-family housing starts in 55+ communities to increase 22 percent this year and an additional 20 percent in 2014. This demographic will also contribute to 50 percent of all multi-family housing starts in 2014.
"We expect to see an increased demand for 55+ housing as more baby boomers turn 55 and seek homes and communities that offer the lifestyle they desire," Emrath said at the association's International Builder Show here this week.
Shares of U.S. households age 55+ jump from 42 percent in 2012 to 46.6 percent in 2020, thanks to aging boomers, Emrath said while presenting the association's What Home Buyers Really Want Survey. NAHB commissioned the survey to educate its members - both builders and remodelers - on the new trends homeowners are demanding.
The uptick reverses the trend that crushed the housing market over the past five years. "We are seeing more consumers overcome the inertia of waiting on the sidelines to buy a new home as they become more confident in their local market conditions."
Why are they so confident? Because homeowners are now able to sell their existing homes at reasonable prices and make a profit that allows them to downsize or relocate near their children.
So what trends are they seeing? Golf course communities are no longer at the top of the list. In fact, they're in the sand trap of least desirable amenities boomers and seniors want in their communities.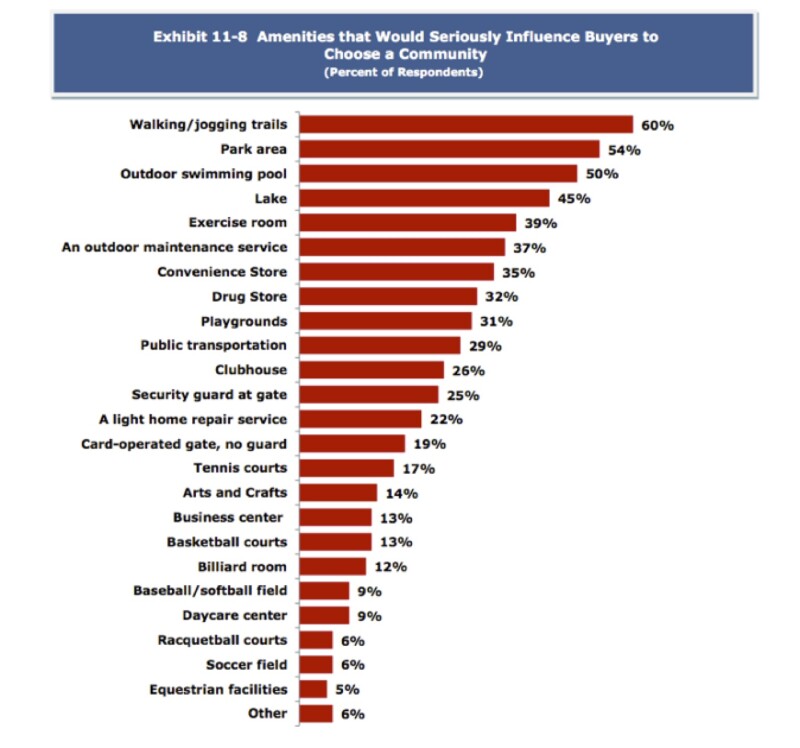 Most wanted amenities in their community:

Walking/jogging trails
Parks
Outdoor pools
Local drug/convenience store
In their home:

Energy-Star rated appliances throughout entire house
Laundry room
Ceiling fans
Exterior lighting
Bathroom linen closet
Garage storage
Table space in kitchen
Size also matters. According to NAHB's survey, 68 percent of those ages 55-64 and 69 percent of those 65+ want a single-story dwelling.
"We are servicing the largest growing groups of buyers that we have ever seen in this age category, and it is a population that is dramatically different from what it was only a few years ago," said W. Don Whyte, chairman of NAHB's 50+ Housing Council. "That's why it is so important to know what consumers are looking for in 55+ homes and communities."
What about you? Do you agree with the survey findings? What do you want in your home? Community? Tell us in the comments below.