Caregivers Share Coping Ideas at Life@50 Event
By Sally Abrahms , September 21, 2012 02:22 PM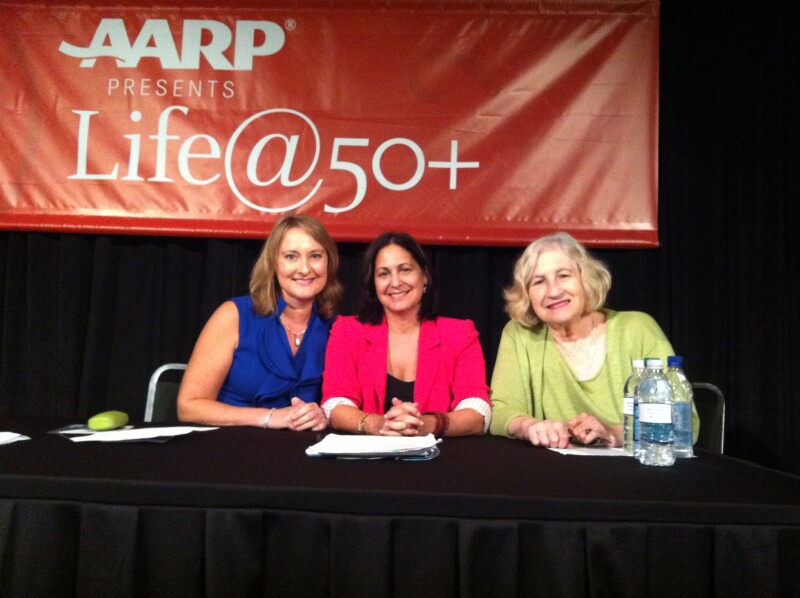 I'm jazzed about AARP's annual Life@50+ member event going on this week in New Orleans. Attendees can exercise, listen to all kinds of music, hear commentators James Carville and Mary Matalin argue politics, and take in sessions on such meaningful topics as finance, work, scam artists, social media and happiness.
I like to think the biggest attraction, at least so far, has been today's session on caregiving - and not just because I was on the panel! The group came up with several strategies for improving the lives of our loved ones, and some might give you ideas.
On the panel with me, a long-distance caregiver of 12 years (first for my father, then my mother and now my mother-in-law who is about to be 93) were:
Moderator Amy Goyer, AARP's family expert, whose parents moved in with her just three weeks ago. Goyer's father has dementia and her mother has serious health issues.
Carol Levine, director of the Families and Health Care Project at the United Hospital Fund and an AARP caregiving expert. Levine became a caregiver after she and her husband were in a car accident. It left him with brain damage and quadriplegia. She cared for him at home for 17 years. During that time, her mother, who lived 500 miles away, had metastatic cancer.
Here's my in-the-trenches recap.
Levine's ideas:

She and her husband wrote a two-page story of his life before the accident and gave it to people they met who hadn't known him.
She hired people (in her case, unemployed actors, but it could have been a volunteer) to read to her husband (sports stories, books).
Goyer's suggestions:

When her father gets frustrated or she has something she has to do, Goyer puts on a DVD from her collection of movie musicals and Lawrence Welk shows for her parents.
She has her dad do water tai chi, and Goyer is also trained to do it with him. It calms him, helps with his arthritis and requires him to follow directions. Goyer says it also relaxes her.
My ideas:

Find something meaningful you can do together. In my mother's case, it was poetry. When I visited and she could no longer see, I'd pull out a famous poem, often by Googling it on my iPhone, and the former English teacher and I would recite the lines together, feeling connected and close.
My mother-in-law is all about family, so we bought her a digital photo album and scanned in reams of pictures of her parents, siblings, husband, children and grandchildren. She watches them all day. A friend made a video of her talking about her life. She reminisced about her husband and honeymoon, her working life, what her sons were like growing up and now as adults, and the thrill of attending her grandson's wedding. We set up a DVR machine that she can see from her chair and she has become a great fan of herself!
What have you found works for you with your loved one? I'd love to know, and so would readers.
Follow Sally Abrahms at www.sallyabrahms.com and on Twitter.