Community Caregiving in Cohousing
By Sally Abrahms , June 06, 2013 01:06 PM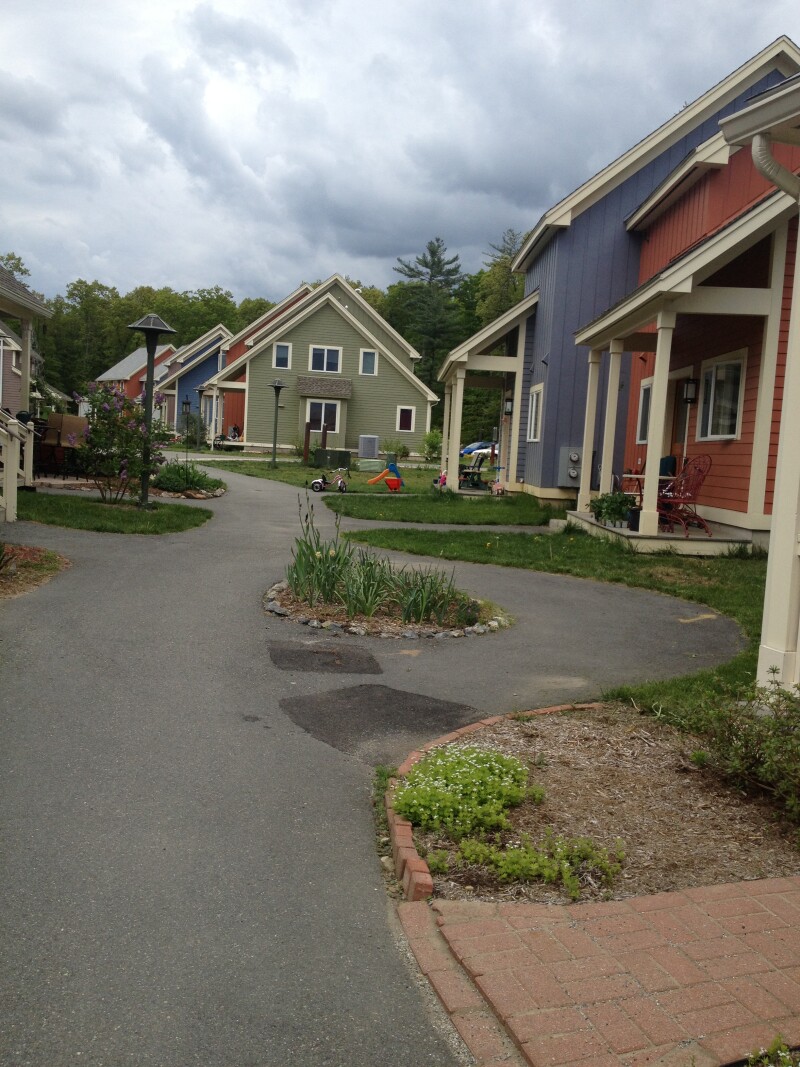 Remember when neighborhoods were like caring villages? I never had that experience, but got more than a hint when I visited Camelot Cohousing in Berlin, Mass., a couple of weeks ago.
I went to do a housing story and found a family caregiving story!
It also brought home the point that there are many ways to grow old and have support. Whether you're a boomer or in your 70s and beyond, it's an interesting option.
First, the cohousing concept: People own (a few rent) a small, often attached, home with an inviting front porch. Houses are next to, as well as face, one another across a walkway. Roads and cars are banished to the perimeter of the property so there is daily pedestrian interaction with innumerable everyday opportunities to get to know one another. This regular, impromptu communication fosters deep friendships.
Residents share outdoor space and a multipurpose common house. Usually there's a kitchen, a living room/meeting room/movie area, a bedroom for guests or future caregivers, and whatever else the group wants (a fitness room, game room, sewing room, perhaps) in the common house. It's also where residents, if they choose, can have one or two meals together a week.
Members in Camelot range from a newborn to 80-year-old Martha Shevett. The day I visited, Shevett was sitting in a white wicker chair on her porch. She had a rail installed because "I'm old and tottery," she said.
Shevett used to live alone in an apartment. "It was tremendously isolating," she recalled. Now Shevett lives alone but isn't lonely.
Before moving to Massachusetts, she had settled in Pennsylvania and Florida. "I've never had these kinds of relationships with neighbors. People are so wonderfully supportive," she said.
If she has trouble opening a jar, she'll ask someone on the walkway. She's fallen several times in her house, winding up in the hospital more than once. While she had a visiting nurse, neighbors also rallied. If she had been living in her old apartment, "I would have been up a creek," she said. Taking a shower is still hard. A neighbor, a registered nurse, called when I was visiting to see if it was a good time to help Shevett take a shower.
There are 34 units in Camelot. If she wants to see fresh faces, she hops in a three legged motorized cart she's dubbed "my chariot" and in two minutes, she's at Mosaic Commons, another intergenerational cohousing community. They share meals and have a similar set-up.
Among the faces she sees at Mosaic Commons are her 48-year-old son, David, and 14-year-old grandson. Both mother and son love the arrangement. As David put it, "Mom's not right here. She's close enough to be convenient and far enough away to give us distance." He's "relieved" and "ecstatic" that she's surrounded by people who care about her. "It's the dynamic you want in any small town where people look out for each other," he said. "I don't ever want to move from Mosaic Commons. I'm in a place I want to be for the rest of her life."
And so is Martha.
Interested in cohousing? There are more than 120 developments nationwide, all intergenerational except six geared to seniors. (There are plenty of boomers in senior cohousing.) Around the country, homes in cohousing develpoments range from $150,000 to $1.4 million and are 450 to 2,000 square feet.
Two good resource are the Cohousing Association of the United States and The Cohousing Company.
Do you think cohousing might be right for you? Tell us in the comments below.
Follow Sally Abrahms on Twitter. You'll find other articles on boomers, elders, housing and caregiving on her website.