A New Place to Talk About Death: A Cafe
By Sally Abrahms , June 12, 2013 03:07 PM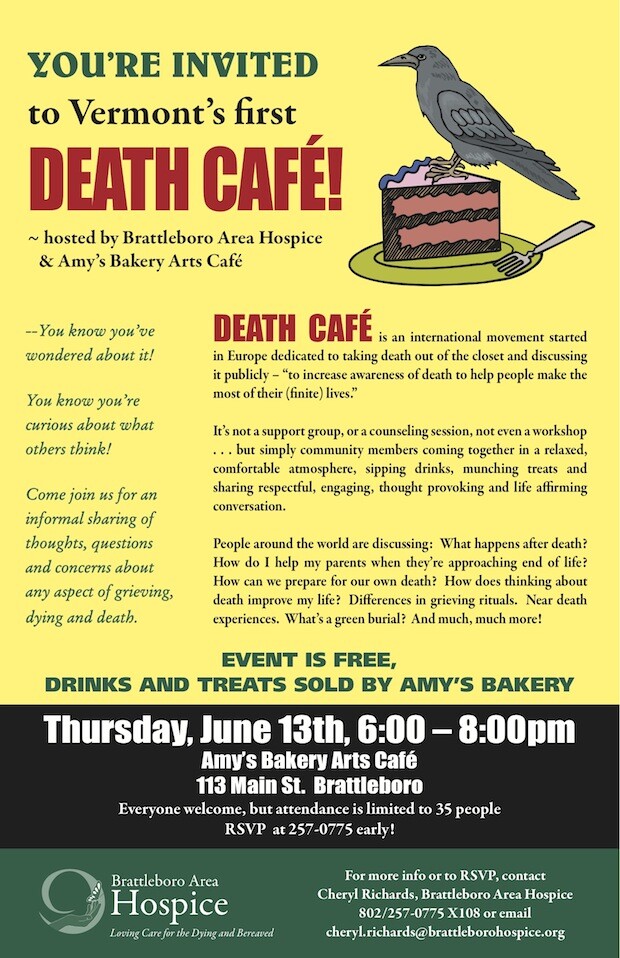 Wanna talk about death? It seems that a lot of people do. Death cafes are popping up around the country, with more than 60 so far. You will be hearing a lot more about them. (I swear on my life.) Look, even USAToday has written about them!
At these Cafes, the conversation is about ... death: Our fear of it, how we prepare for our own, what we think happens after it's over, near-death experiences, grieving rituals and funerals. The biggest focus is exploring what participants want to do before they die and how they want to live since, another subject covered, death really is inevitable.
What they're not: support or bereavement groups. What they are: a place to feel comfortable talking about a taboo subject.
The definitive website, with an apt URL of www.deathcafe.com, says a café's purpose is "to increase awareness of death with a view to helping people make the most of their finite lives."
Typically, the venues are coffee shops or restaurants. But not necessarily. In March, a group convened at the Oakland Cemetery in Atlanta. A bit ghoulish? Perhaps, but facilitators at these special events are usually social workers and hospital chaplains.
Join the discussion: The No Longer Taboo topic of Death...
The café concept was started in Switzerland by sociologist Bernard Crettaz. It passed on to England when web designer Jon Underwood heard about it and held a death pow-wow in his basement. He's continued to spearhead the movement. (Aside: interesting that the stiff upper lip Brits tackled the topic before the say-it-like-it-is U.S. baby boomers.)
It makes sense that the concept is taking off in America. These independent-minded, I'm-not-going-to-take-it-lying-down boomers are exploring the last frontier. They're trying to control what they can.
We've seen it with the "Me" Generation planning their own funerals. At mywonderfullife.com you can write your obituary, choose the readings and the music.
Funeral directors no longer blush when they're asked to have a motorcycle theme for a biker or hand out goodie bags to mourners. At casketfurniture.com, you can order a coffee table or a cabinet that can me later used for, you guessed it. Clever entrepreneurs can even make diamonds out of human ashes. Don't worry, the LifeGem is certified by the Gemological Institute of America.
But back to death cafes. It joins The Conversation Project, which helps folks discuss end-of-life wishes for themselves or their parents', in taking the Grim Reaper by the reins.
Death cafes are planned this month in Jacksonville, Fla., Taos, N.M., Ann Arbor, Mich., New York City, Cleveland, Flagstaff, Ariz., Baltimore, Atlanta and Dumfries, Va. More are on tap for the summer and beyond. For details, go to www.deathcafe.org.
Follow Sally Abrahms at www.sallyabrahms.com or on Twitter.