Encore! The Highest Honor for Veterans
By Sally Abrahms , November 14, 2013 04:50 PM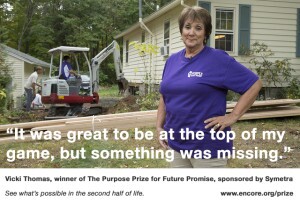 What timing for Veterans Day! Winners of the 2013 Purpose Prize, for people 60+ who are making a difference in others' lives by combining their personal experience and passion, were announced this week. Two of these annual prizes, awarded by the nonprofit "second act" organization Encore.org, went to people working with vets.
This year's social entrepreneurs could be a resource for readers. If nothing else, their efforts will blow you away.
Vicki Thomas: A career public relations and marketing executive in Connecticut, Thomas happened to be watching CNN when she saw a segment about two vets severely injured in Iraq. They had started Purple Heart Homes (PHH), a fledgling nonprofit that adapts foreclosed homes or builds new ones for wounded soldiers in their communities.
So moved, Thomas, 64, called founders Dale Beatty, a double amputee, and John Gallina, who suffered head and back injuries, offering her fundraising and marketing expertise. She's now their director of communications; in her first year, Thomas boosted revenue 600 percent. PHH expects to complete 35 to 40 homes this year and another 50 in 2014.
Her Veteran Home Ownership Program finds banks and cities to donate the houses, while PHH raises money to renovate the structures for the veterans' needs. Through a credit union, a vet can get a 15-year mortgage that is worth 50 percent of the appraised value of the home. Starting after five years of on-time payments, a percentage of the equity is released. By the 15 th year, the vet owns the house debt-free.
Thomas's other initiative was restructuring PHH's aging in place program for older vets. Here's how it works: Some of the repaid mortgage money is used to fund free home modifications for those who don't qualify for subsidy programs geared to recently returned vets. The other repaid mortgage funds will allow PHH to be self-sustaining in the next five years.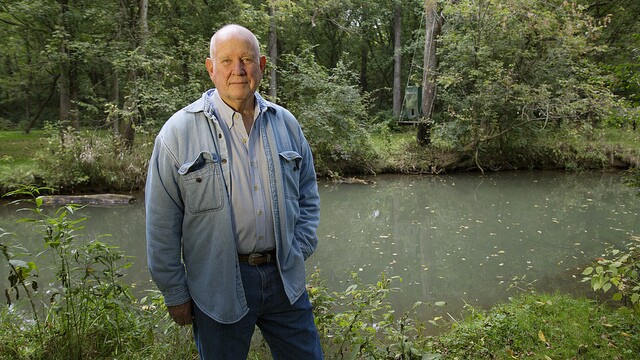 Ed Nicholson: In 2005, the retired Navy captain and Vietnam vet, with a 30-year military history, was diagnosed with prostate cancer. He had surgery at Walter Reed National Medical Center, where he came into contact with physically and psychologically injured vets who had served in Iraq and Afghanistan.
So what did the expert fly fisherman do? He launched Project Healing Waters. Nicholson, now 71, cast around and found fly-fishing groups and facilities around the country willing to teach disabled vets this skill. Some of the converts are in wheelchairs or use prosthetics; others are blind. Or, they may be physically intact but emotionally impaired.
For eight years, Encore.org has made $100,000 awards to two Purpose Prize winners and $25,000 to five others. It is an organization that could not be more aptly named.
Photos courtesy of Encore.org.
Sally Abrahms covers caregiving, housing and age 50+ work. Follow her on twitter.