Caregiving Books You Should Care About
By Sally Abrahms , July 24, 2013 07:35 AM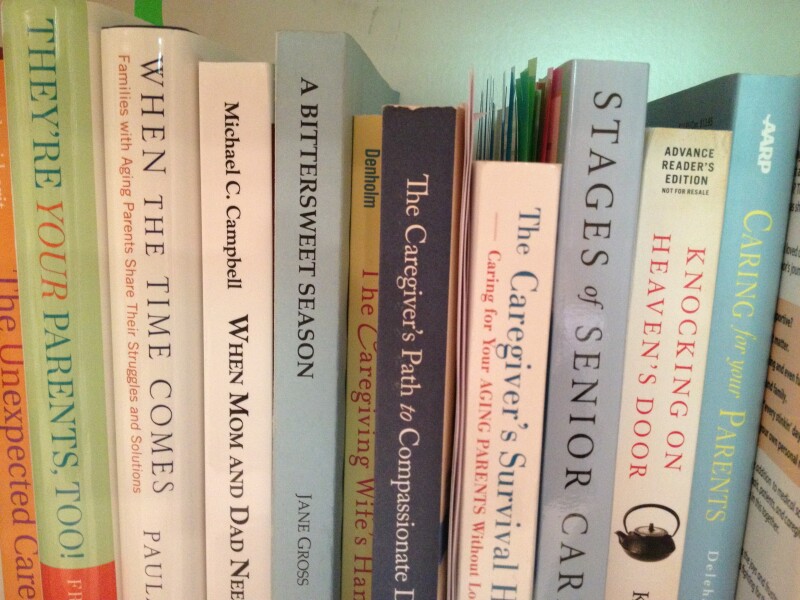 Ah, it's summer. Beach reading time if you're a lucky caregiver. What I'm going to propose may not be your idea of breezy escape books. But I've made a list of top-notch resources for family caregivers. If you can't get to them now, they'll be helpful in any season.
The books are written by professionals (physicians, nurses, therapists, gerontologists, bioethicists and journalists), many of whom know about caregiving firsthand. With tips, strategies, information and contacts, they focus on sick spouses, ailing or needy parents, and you, the caregiver.
No reason to read anything into the order in which books are listed; it's arbitrary.
1. When the Time Comes: Families With Aging Parents Share Their Struggles and Solutions, by Paula Span
2. They're Your Parents, Too! How Siblings Can Survive Their Parents' Aging Without Driving Each Other Crazy, by Francine Russo
3. The Emotional Survival Guide for Caregivers: Looking After Yourself and Your Family While Helping an Aging Parent, by clinical psychologist and family therapist Barry J. Jacobs
4. Passages in Caregiving, by Gail Sheehy
5. A Bittersweet Season: Caring for Our Aging Parents - and Ourselves, by Jane Gross
6. The Caregiver's Survival Handbook, by gerontologist Alexis Abramson
7. A Cast of Caregivers, by Sherri Snelling
8. To Survive Caregiving: A Daughter's Experience, a Doctor's Advice, by Dr. Cheryl E. Woodson
9. We're in This Together: A Caregiver's Story, by Rob Harris
10. The Unexpected Caregiver: How Boomers Can Keep Mom & Dad Active, Safe and Independent, by Kari Berit
11. The Gifts of Caregiving: Stories of Hardship, Hope, and Healing, by Connie Goldman
12. The 36-Hour Day: A Family Guide to Caring for People Who Have Alzheimer's Disease, Related Dementias, and Memory Loss, by dementia specialist Nancy Mace and Dr. Peter Rabins, a psychiatrist and behavioral scientist specializing in memory disorders at Johns Hopkins School of Medicine
13. Learning to Speak Alzheimer's, by Joanne Koenig Coste
14. The Caregiving Wife's Handbook, by psychotherapist Diana Denholm
15. When Mom and Dad Need Help; senior housing and care information by Michael C. Campbell
16. The Caregiver's Path to Compassionate Decision Making: Making Choices for Those Who Can't, by bioethicist Viki Kind
17. Stages of Senior Care: Your Step-by-Step Guide to Making the Best Decisions, by Paul and Lori Hogan, founders of Home Instead Senior Care
18. Don't Give Up on Me! Supporting Aging Parents Successfully: A Daughter's Intimate Memoir, by Jan Simpson
19. Caring is Not Enough: A Workbook for Emergency and End-of-Life Planning, by registered nurse Terry Ann Black
20. Knocking on Heaven's Door: Our Parents, Their Doctors, and a Better Way of Death, by Katy Butler
21. Saying Goodbye: A Guide to Coping with a Loved One's Terminal Illness, by Barbara Okun, Ph.D., and Joseph Nowinski, Ph.D.
Consider this your personal caregiver library.
I'm sure there are some treasures I missed. Want to add to the list?
Speaking of missed, a post I recently wrote on caregiving websites left out two worthy ones. They are www.caregiving.com and caregiver.com.
For more of Sally Abrahms' work, go to her website and follow her on twitter.
Photo by Sally Abrahms
Also of Interest

Join AARP: Savings, resources and news for your well-being
See the AARP home page for deals, savings tips, trivia and more