Kids in Assisted Living: Everyone Wins
By Sally Abrahms , April 03, 2013 08:30 AM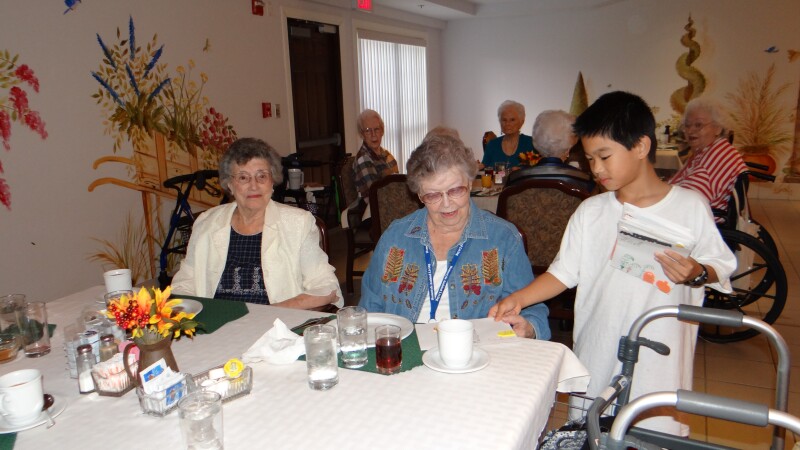 There's a children's book series that has come out in the last year about a young girl named Carlyn and her visits to her grandmother in assisted living. It debunks the stereotypes about old people and long-term care. Here's one line from Carlyn Meets Granny Girl's New Friends: "Wow, this does not look like a place creepy people live, and I do not smell anything weird, either!" Carlyn said.
There's an even more interesting story behind the book. It's written by a registered nurse, Alison Cothran, who lives and works at Homestyle Assisted Living in Springdale, Ariz., along with her husband Wade and their children. She and Wade, who acts as the administrator, have been co-owners and residents since the facility's inception 15 years ago.
The Cothrans have a three-bedroom apartment built for their family. Their oldest daughter, now in college, grew up there, and so do Alison and Wade's two sons, ages 13 and 10, and 8-year old daughter. That would be Carlyn of book name/fame.
The family considers the entire facility their home. So, for one of the children's birthday parties, the kids asked residents to participate in games along with their pint-size guests. When the children got sneakers with lights on them, they turned off the lights in the main dining room and moved around. One Fourth of July the Cothran children had a bicycle parade in the dining room." It's intergenerational to the max. "We've been able to share a lot," says Alison.
The families of the residents, the family caregivers, are thrilled to have the children around. One adult child bought a teepee for the kids and kept it in her mother's closet. The kids would set it up and play in her living room. Another resident's child purchased and stocked a toy box so Cothran's children would hang out in her mom's room.
Alison says each of her four children has formed his or her own special relationships with residents - relationships that have developed without prompting.
Having kids at the 76-bed facility may also be good for business. When prospective families tour Homestyle Assisted Living, they always comment on the Cothran children's school pictures and sports trophies in the corridor near their apartment.
Back to the book. So far Alison has published three of what she expects to be a five-part series about Carlyn visiting the assisted living residents. "I wrote it to help other children who come to these facilities. I want it to be a positive experience for them."
Sounds like the Cothrans have had a lot to talk about at show-and-tell. And the rest of us have a lot to learn.
Take a look at Sally Abrahms's website and follow her on Twitter.
Photo taken by Wade Cothran, father of Cray