Your Four-Step Holiday Caregiving Checklist
By Sally Abrahms , November 21, 2012 12:49 PM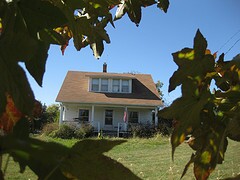 If Sherlock Holmes had been a long-distance family caregiver visiting his parents over Thanksgiving, he would have been a busy guy. He wouldn't have missed a great opportunity to assess how an older family member or friend was faring so he could make changes if needed. And neither should you.
It doesn't take a pro to sleuth out the situation. Here are easy pointers on what you need to know:
1. Their Health

What do you notice? Do they remember to take their medications? Consider a "smart" pill box that reminds them to take their pills and reminds them again if they forget. Do they need a Medic Alert-like device (PERS) or other technology?
Are their prescriptions up to date?
Do you know the names and dosages of their meds in case you ever need to contact their doctor? How about how to reach their specialists?
Do they need help with anything medical-related? Filling out insurance claims, dealing with doctors (receptionists, scheduling appointments)?
2. Their House

Does their house work for them? Can they climb the stairs? Do they need to think about a chair lift, moving to the first floor, or moving places altogether? Can they get into their shower easily?
If they have a study on the first floor with a bathroom, could it be converted into a bedroom?
Should you make modifications? Change cabinet knobs, move shelves, install grab bars or handrails, buy an adjustable toilet seat, or increase lighting? Certified aging in place specialists (CAPS) help older adults make safe and user-friendly adjustments.
Is their home safe? Are rugs loose, the stairs cleared, would better lighting reduce the risk of fall? AARP also has a great checklist.
3. Their Mobility

Are they having trouble generally getting around? How does their car look - any dents? Take a ride in the passenger seat. How's their driving? Test out an intersection, left turns, street signals, and speed.
Do you need to have The Driving Talk?
4. Their Finances

Is their mail piling up with unpaid bills? Do you see late notices? It may be time for online banking.
Do you know where all their financial information is?
Other questions or observations that might help a family caregiver? The holidays are a great time to have a heart-to-heart, or at least begin important, albeit difficult, conversations.
Follow Sally Abrahms at www.sallyabrahms and on Twitter.
Photo by Dragon Sme courtesy of Creative Commons