Can Your Race Hamper Caregiving?
By Sally Abrahms , September 20, 2012 08:05 AM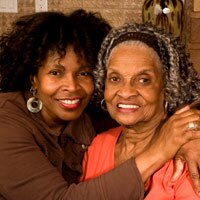 What's it like to be a family caregiver if you're Hispanic or African American and your loved one has been hospitalized? "Invisible" is one of the words used to describe the experience. "Unprepared" for the enormous responsibilities (injections, tube feedings, wound care, complicated medical issues) post-hospital could be another.
To compile the report, " Meeting the Needs of Diverse Caregivers ," just out from the AARP Public Policy Institute, researchers spoke with Hispanics (both English and Spanish speaking) and African Americans as well as nurses and social workers across the country.
See also: Dealing With Cultural Differences
Many family caregivers were unsatisfied with how they were treated during their hospital stay and after. Here's what they had to say:

Some African Americans and Hispanics felt ignored by hospital staff and left out of discussions regarding family members.
Spanish-speaking caregivers didn't always understand information and instructions provided in English and a translator was not always available. English-speaking Hispanic caregivers often received instructions and training, but not their Spanish-only speaking counterparts. (Great tips offered at AARP's Caregiver Resource Center: Language Services for Non-English Speakers.)
Hispanic and African American caregivers felt they didn't have adequate training (to perform the nitty-gritty like changing an adult diaper, moving family members from the bed to the bathroom or dealing with complex and multiple health conditions) to feel confident about caring for their loved one at home.
Determining correct dosages, times of day to administer medication, and even which pills to take, was confusing. Again, family caregivers didn't feel they had been prepared well enough and that discharge plans were complicated and confusing. They also thought the hospital should have provided a few days worth of medication so they wouldn't have to dash to the pharmacy as soon as they got home.
Caregivers sometimes did not realize that health care professionals such as social workers could connect them with community resources. Most Hispanic caregivers were not getting services and did not know how to access them.
Is there a "cure?" The point they all made was that there needs to be better communication and collaboration between family caregivers and health professionals.
African American and Hispanic caregivers came up with solutions, or at least ways to make the process more painless. Among them were:



Establish a 24 hour telephone help line so caregivers could get their questions answered quickly. AARP has such a help line at 877-333-5885 that's open M-F, 9 a.m. to 5 p.m.

Have hospital staff show caregivers how to do a task, then observe them doing it and follow up with a phone call to make sure they retained the knowledge.

Have staff schedule the next medical appointment before they leave the hospital.

After discharge, have a care coordinator, who speaks multiple languages or the language of the of care recipient, visit the patient several times and be accessible via phone.

Have a social worker get in touch with both patients and caregivers after the hospital stay to make sure they're receiving the recommended services.
These suggestions make sense. As the caregivers said repeatedly, they're more than willing to do the work. But they need information and resources when they need them to do a better job and be more confident.
Have you had a similar experience with health care professionals? What happened?
Follow Sally Abrahms at www.sallyabrahms.com and on Twitter.