Caregiving Alert: The Consequences of Loneliness
By Sally Abrahms , July 30, 2012 09:52 AM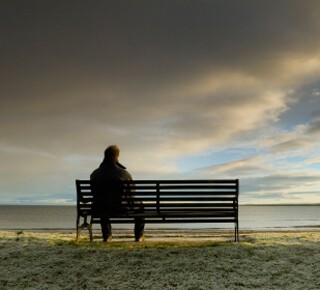 "One is the loneliest number that you'll ever do. Two can be as bad as one. It's the loneliest number since the number one."
It seems that singer/lyricist Harry Nilson was onto something. A new University of California, San Francisco study on the impact of loneliness in later life underscores the importance of social support. UCSF geriatricians discovered that loneliness and isolation can lead to a decline in physical health and even early death.
Related: All the Lonely People
They're not talking about being alone, but rather feeling alone and lacking meaningful connections. Here's the shocker: Nearly two-thirds of the 1,604 participants, all age 60 and older, who said they felt lonely were married or living with a partner.
Other significant findings that were culled from respondents every two years from 2002-2008:



More than 43% said they were sometimes lonely, and those adults were 45% more likely to die over the six-year period than those who were satisfied with their relationships.

Over the course of the six years, the unhappy group was 59% more at risk of declining physically in performing such tasks as bathing, toileting, dressing, eating (in medical speak known as the "activities of daily living" or adl).
Epidemiologists and geriatricians believe the connection between loneliness and physical decline or an early demise is likely biological. As Andrew Steptoe, director of the Institute of Epidemiology and Health Care at London's University College explained in a New York Times article: "There is growing evidence that both loneliness and social isolation are related to biological processes that may increase health risk, including changes in the immune and inflammatory processes and the disruption of the stress-related hormones."
A new Cornell study also found that loneliness can trigger changes in cardiovascular functioning that accelerates aging.
Let's cut to the chase: Coming up with ways to reduce loneliness and involve elders in meaningful social contact is critical. To get your parent, spouse, or friend more engaged in the world, contact your town, local senior center, cultural institutions that may have special programs, or your Area Agency on Aging or disease specific organizations.
And for you, online forums at AARP. org, Caring.com, or the National Family Caregivers Association's The Family Caregiver Forum may be the way to connect and feel close. Another gem is the Alzheimer's Reading Room.
Do you/did you feel isolated or lonely? Are you doing anything about it? What would you like to do? What has been most helpful to you?
Follow Sally Abrahms on Twitter or at www.sallyabrahms.com.
Image via CreativeCommons.org