Will Your Mom's Retirement Community Give Her CPR?
By Sally Abrahms , March 04, 2013 07:59 PM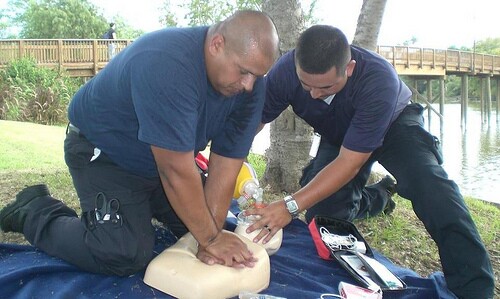 According to its website, Glenwood Gardens in Bakersfield, Calif., says "our caring staff are trained and equipped to give aid or assistance whenever needed or requested." They claim it offers "the best in independent living, assisted living, memory or nursing care. Glenwood Gardens is the place to be."
I guess that would be if you weren't having a life-threatening breathing problem.
I spent the day scrambling to get the facts about the now infamous incident last week at Glenwood Gardens' independent living facility. Here's the story reported first through the Associated Press and subsequently picked up by newspapers nationwide:
An 87-year-old independent living resident was in the dining room when she passed out and was having a hard time breathing. A nurse (unclear if her job at the facility was as a nurse or in some other capacity) called 911. The emergency dispatcher is heard on the tape pleading with the nurse to perform CPR on the woman. The nurse refuses, telling the dispatcher that it is against company policy to intervene. The woman dies.
In a written statement provided to AP, the executive director of the facility said that the nurse followed company policy - to call 911 and wait for the ambulance to arrive. I called Brookdale Senior Living, the company that owns Glenwood Gardens, to get clarification but they don't seem to be calling me back. ...
It was first reported in the news that Glenwood Gardens was a continuing care retirement community (CCRC). Wrong. CCRCs may have an independent, assisted living, and skilled nursing component. Or, they may just offer assisted living and skilled nursing. CCRCs have certain regulations that are governed by state law. But you can also have a freestanding independent living facility, like Glenwood Gardens, that is not part of a CCRC and does not provide health-related services. Translation: it is not subject to CCRC regulations or any contracts.
According to Joseph Rodrigues, California's long-term care ombudsmen, "there's no regulatory requirement for them [Glenwood Gardens] to provide CPR because they are not licensed to offer skilled or medical services to their residents. But from a moral perspective? It's hard to say. I wouldn't want to speculate without knowing the details."
A just-breaking statement released by the California Assisted Living Association (CALA) said, "Currently in California, regulations do not address CPR training or administration in independent living communities. While CALA's membership is comprised of Assisted Living communities, not independent living communities, this incident is prompting providers to review their practices assuring appropriate emergency response procedures are in place."
Here's what others told me:

Richard Grimes, CEO of the Assisted Living Federation of America: "I don't know the circumstances in this case, but I also don't know any senior living community anywhere that says you cannot provide CPR. It's irrelevant whether the nurse was a nurse, a passerby, or employed by the community. She believed she wasn't allowed to provide CPR and that's clear from the police recording."
Pat McGinnis, executive director of the California Advocates for Nursing Home Reform: "Unless the resident signed a 'do not resuscitate' form, which I'm told she didn't, there should be a presumption that they're going to save your life and not stand by and let you die. ... To have someone dying on the dining room floor, I don't care what their policy is. The nurse might have been following policy, but it's absolutely abhorrent and unconscionable."
I agree. The inactions of the nurse take my breath away.
There needs to be better training of staff so there are no policy misunderstandings. And if the employee was, indeed, following company policy, then perhaps they need to change that policy.
What does this mean for you? If your loved one is going into independent living, you need to find out if it's part of a CCRC or not. Either way, you'll want to know what the facility's policy is with that kind of emergency. Do they have medical staff that will respond if someone is in distress or are they going to default to 911?
What do you think?
Follow Sally Abrahms at www.sallyabrahms.com or on twitter.
Photo via eachavez2 | Flickr Creative Commons