Stuffed Animals as Therapy for the Elderly?
By Sally Abrahms , May 22, 2013 09:42 AM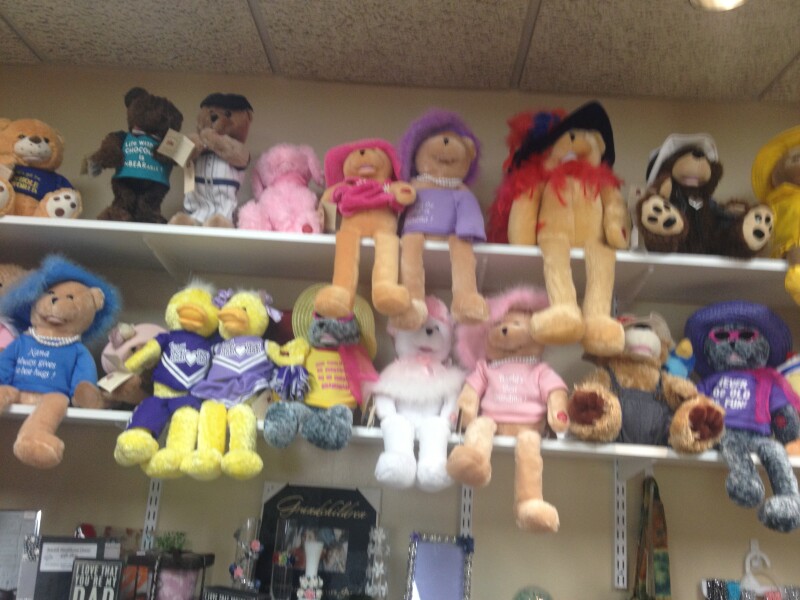 Walking by the gift shop at my mother-in-law's nursing home, I did a double take. The shelves were lined with stuffed animals. My first thought was, why are they here? This is not a place with kids. Then I realized, it's for the 80- and 90-year-old residents.
I didn't have to ask the clerk how they were selling. She was in the middle of ringing up a charming bear in a ruby satin dress donning an oversized floppy hat.
During my visit, I wheeled my cognitively intact mother-in-law to her friend's room in the memory care unit. Guess what was there? An enchanting brown and white life-sized stuffed dog so big that it spills over a human lap. My mother-in-law held it. (Okay, so did I.) I asked if she wanted one. I thought she'd say no. "It would be nice," she replied.
There's a woman on my mother-in-law's floor who rides around in her wheelchair stroking a small Teddy. It is a little off-putting, I admit. We're a society that values maturity and discourages people from acting "babyish." Having a stuffed animal isn't thought of as being mature, or, in our culture known as "acting your age."
Some think that giving stuffed animals to the elderly is insulting and infantilizing. But if college kids (and beyond) can cart them off to school - and they do - what's the difference? A grandparent or great-grandparent has the same need - to have a reminder of something familiar or beloved. Or to be soothed by something that may be new but reminds them of their past.
Or maybe it's the "touch thing." Could a stuffed animal provide the same tactile comfort as a live pet? Research abounds about the power of pet therapy for the elderly, the grief-stricken and the emotionally challenged. Stroking an animal , particularly a dog, has been shown to lower blood pressure and heart rate, reduce agitation and anxiety and produce a sense of well-being.
It doesn't matter how old you are, it's comforting to touch something soft and familiar. "When we're stressed and vulnerable, we tend to regress and seek out what gave us comfort earlier in life, like a blanket or favorite stuffed animal," says Barry Jacobs, a Pennsylvania clinical psychologist and author of the Emotional Survival Guide for Caregivers. "It's not about treating someone elderly like a child. These objects provide comfort for all ages."
A close friend told me last week that her married daughter still has her childhood blanket. Her husband has a rule: her wife can sleep with her beloved blanket when he's out of town. Otherwise, it's relegated to her closet.
I found myself in a toy store the other day looked at stuffed animals. I said to the clerk, "this might sound weird, but I want one for someone in her 90s."
"It's not weird," she said, "it's lovely." I bought her a camel-colored dog.
What is your take on this topic? I'd love to hear from you.
For more on Sally, go to www.sallyabrahms.com or twitter.