A Grave Matter: What Happens to Your Social Media When You Die?
By Sally Abrahms , May 06, 2013 11:34 AM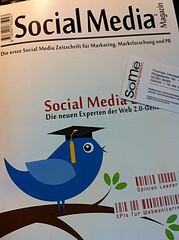 Just when you thought you had all the important documents you need to know your loved one's wishes - power of attorney, will, health care directive, perhaps Do Not Resuscitate (DNR) - here's another to consider: a social media will.
This digital estate planning document states what you want to have happen to your social media - Facebook, Twitter, Google, LinkedIn, email account - when you die. Just as you need an executor of your estate, you'd have to appoint a legal online executor.
As more older people go online - a 2012 Pew Research Center study found one-third of Internet users age 65+ go on social networking sites on a typical day - grow older and pass away, who has a say in their social media content is likely to become a mainstream concept. No doubt it will spawn lawsuits, or at least bad blood, among those who want to keep a loved one's posts on the site and those who don't. (Ultimately, those cases will be decided by state law.)
In the meantime, with a death certificate, Facebook will either remove a deceased person's profile/account or change it from active to a memorial page. People can share memories and photos of the person and keep the timeline, but the status updates won't pop up. ("Hi, I'm no longer among the living" or "Back in five. Gone to meet my maker.")
Twitter and LinkedIn will also deactivate an account with a death certificate. LinkedIn and Google require an authorized representative of the estate to make the request.
Google recently introduced the Inactive Account Manager. If your account becomes inactive, Google's "Grim Reaper Manager" will warn you by text message and email that it's inactive (a prank-proof move). If it's not a false alarm - you've really expired - you will have already told Google what you want done with your Gmail messages and other services or else appointed others to make the decision.
For those who just can't say goodbye, there are services that allow you to keep your online presence even after you're gone. You heard correctly. DeadSocial lets you compose Facebook, Twitter and Facebook messages for future times (birthdays, other important dates or whenever) when you're no longer around. LivesOn, which plans to launch (unclear when) has this cheery motto: "When your heart stops beating, you'll keep tweeting." And, if i die is a Facebook app that allows you to create video or text messages that get published postmortem.
So much for a digital afterlife. If you're still here and haven't come up with a Mother's Day or Grandma present for this Sunday, how about downloading a free app called EasyFamily Social, in English or Spanish? It simplifies Facebook (six big buttons) and makes it easier for older adults to share photos and messages with family. The company has a campaign to get 17 Million Grandmas on Facebook.
A little motherly advice: if you download that Facebook app for Mom or Granny, you might want to save the social media wills/digital legacy talk for another time!
Sally Abrahms writes about boomers and aging. Follow her at www.sallyabrahms.com or on twitter.