A Salute to My Dad - and His Fellow Veterans
By Amy Goyer , November 09, 2011 03:51 AM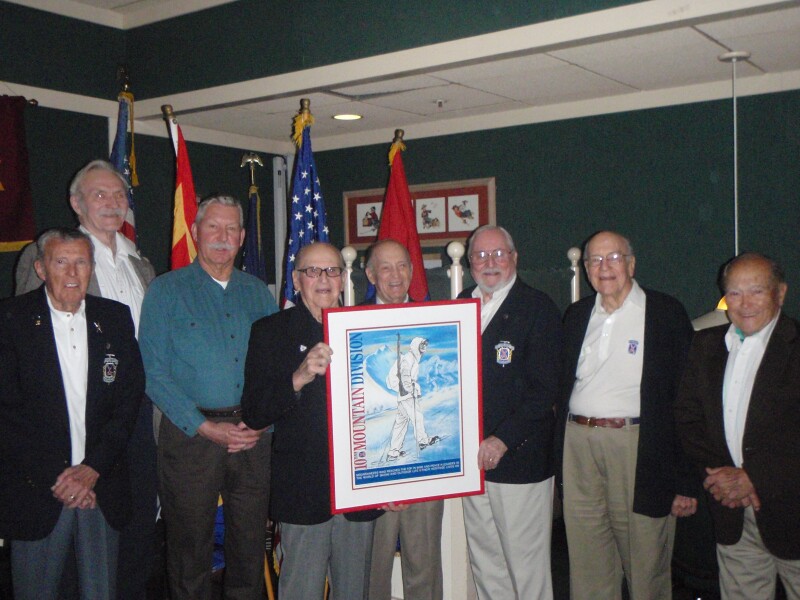 They were easy to recognize today, as they always are when we meet at the Hometown Buffet. They stood out among the lunch time crowd; most were looking pretty darn sharp in their "uniforms" - khaki pants, white shirts and navy blue blazers with the crossed sword and powder keg emblem sewn on the breast pocket, the word "Mountain" stitched above it. My Dad, the spiffiest of them all in my humble opinion, topped his outfit off with a bolo tie bearing the same insignia. These are the soldiers of the Arizona Chapter of the National Association of the 10th Mountain Division who almost 70 years ago formed an elite unit that drove the Nazis out of Italy and virtually ended the war in Europe. Today they gathered to celebrate Veteran's Day.
Dad has been going to these meetings for over 20 years, and since he stopped driving my sister and I have made it a top priority to make sure he continues to join his buddies. They used to get together almost monthly. It wasn't unusual to have more than 40 people show up for the formal business meetings and programs. Plenty of snowbirds who flock to Arizona joined them in the winter months. They took on projects and fundraisers, and when my Dad served several terms as Chapter president his responsibilities kept him hopping around the state. But now it's more of an effort for the dwindling membership to get to the meetings, so they meet only a few times a year. Today we actually had a strong turnout: 18 people (about half family members like my Mom and me.) Now the group mainly comes together to joke, tell stories, share a meal and catch up on health and family news.
Pretty much the same topics come up at each meeting: is anyone else willing to serve as Chapter president? (nope); discussion of dues and how much money is in the till; remembrance of those who have passed on since the last meeting, and concern about the dwindling membership and lack of participation from the new 10th Mountain Division Light Infantry that has been serving in Afghanistan. "They don't seem to feel the same commitment we have," one of the veterans said today. The fear that their beloved 10th will be forgotten is very real.
Every meeting ends with the chapter historian, Al, giving an enthusiastic presentation of stories and trivia he has researched about the 10th and any other topic related to WWII. The highlight today was a rousing story about the soldiers of The 10thtaking over Mussolini's villa, with one of them sleeping in his bed. A few wisecracks about Mussolini's mistress were bantered about...these guys may be octogenarians, but they still have their sense of army humor!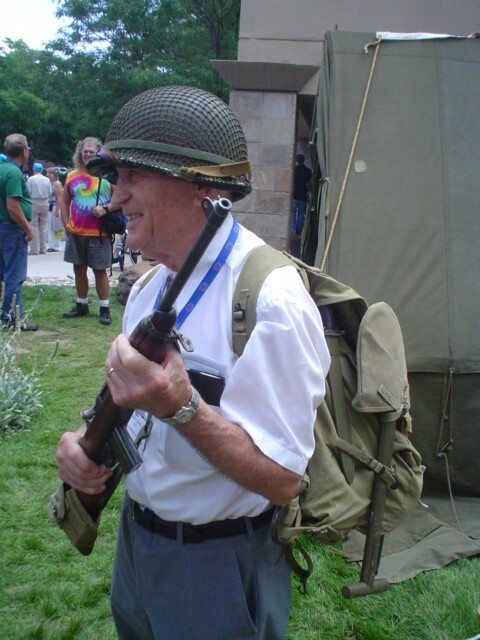 Today one of the men brought some of his war memorabilia, and we were reminded that there are several museums and libraries that would like to have personal war artifacts if the guys are ready to part with them. I made a mental note to work harder to find time to go through my Dad's items with him. As his recollections about his army days dwindle, there is always the hope that looking over the old army song books, training manuals, medals and letters will stimulate his memories. I recall that, just a few years ago when we attended the 2007 national 10th Mountain Division reunion in Denver (the last one ever held by the veterans), Dad was quite able to tell many stories and outline the dates and events of his time in the army. A lot has changed for him since then.
But I know for my Dad, at age 88, and for many of the others, these veterans' group meetings continue to be so important. Memories aren't necessarily as sharp. Details aren't as important. They are no longer driven to accomplish great things in these meetings. It's enough to just belong - to remain a part of the group and enjoy a couple hours of camaraderie with fellow soldiers who have a shared history. These guys changed the world. They just want to remember and be remembered.
Photo Credits: Amy Goyer
Follow Amy on Twitter @AmyGoyer and Facebook AmyGoyer1