When Google Met von Furstenberg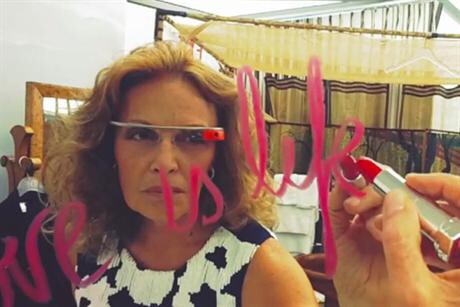 When iconic fashion designer Diane von Furstenberg, 65, met Google's Sergey Brin at a conference and learned of the Glass by Google eyewear his company designed, it was collaboration at first sight. Von Furstenberg didn't question if a promotional partnership between a fashion brand and Internet company would work. So she inked a deal that allowed her Spring/Summer 2013 creative process to be taped via the glasses and edited into a short film called DVF Through Glass .
The glasses, which look like something you may find on a Star Trek movie set, literally bring technology to the wearer. From its small square glass (the screen) that's positioned slightly above the right eye, the glasses can record, receive and reply to text messages, view photos, and implement a navigation system. While those are just a few of the functions, I'm sure that for the hefty price of $1,500, there are a plethora of additional functions that haven't yet been shared. The glasses, due out next year, are said to be among the many beauty and style projects Google is working on. I wonder what's next - hands-free cars that sync to your body temperature and recommend styles for you?
Actually the question really is, how did the collection fare on a runway filled with models sporting facial cameras? According to New York Times blogger Eric Wilson, "some of us barely noticed the clothes. Some pink caftans went by and a shorts and blouse combo in watermelon colors, I think, and insanely tall platforms that were presumably big enough to accommodate a global positioning system." Yet others did take note of the collection. Vogue's Hamish Bowles praised von Furstenberg for inspirations found through travel, her "adventure in highly sophisticated color combinations" and the fact that she made "real-life clothes." It wasn't until the end of his review that he mentioned her fondness for experimentation and embracing a technological future.
Should you decide to take the plunge and pick up a pair of the glasses, I highly recommend these tips from fashion writer Hannah Elliott that include what and how to wear them. As for what to avoid, personally I'd suggest you refrain from anything that looks like it could have been from any 1970s science fiction movie. Trust me, the force is not with you.
Feel Great. Have Fun. Be Stylish. If price were no issue, would you purchase a pair of Glass by Google? How do you feel about this type of technology? Let us know by leaving a comment in the box below. Also follow Dian on Twitter .