When the Caregiver Doesn't Take Care of Herself
By Amy Goyer , August 30, 2012 12:07 PM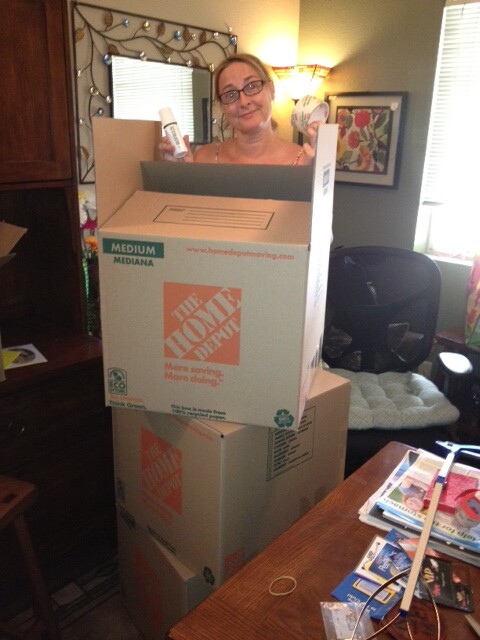 It's a subtle thing. It happens bit by bit...it creeps up and then one time too many of lifting the wheelchair into the trunk and-BAM! -it smacks me flat, usually at the most inopportune time.That's what happened to me last week when my back screamed, "Stop!" I have a history of back problems, but my back hasn't flared up this badly in about 10 years. The timing couldn't be worse. We are packing up my parents' senior living apartment and the movers are scheduled to come in three days. This time, they are moving in with me - back into the home they lived in for 28 years where I have been living for the past three years. This new arrangement will better allow me to care for both my Mom, who has had a stroke and has multiple other health issues, and my Dad, who has dementia.
It was the perfect storm for my body - business travel, lack of exercise, the launch of our AARP and Ad Council caregiving awareness campaign - not to mention the stress of decision-making, planning and preparing for my parents to move in. I'm human - and like all caregivers there is only so much I can control. Little by little I undermined my own ability to do my job as a caregiver. Will I learn from this experience? You bet.
My strategy? Go back to the basics: get enough sleep, eat right, and take the time to seek out the care I need.
So, after a trips to an urgent care facility and later to my doctor, I contacted my Dad's wonderful massage therapist, who made a house-call for me last week and is coming again tonight. I also had chiropractic and acupuncture sessions. Now, the pain is slowly subsiding, but I'm still not able to bend or lift heavy things - the most important part of moving!
And perhaps the biggest shift of all? Accepting that it won't go like clockwork. When my parents moved from their home to the senior living community three years ago, I was super-organized. I'm a planner and although there was a short time frame, I had it all mapped out. This time that's just not possible.
So what does one do when things fall apart? Plan B: which usually entails changing dates, asking for help... and spending more money!
I'll tell you how it goes in my next post.
Photo Credit: Linda Lane