Are Those Fun Online Quizzes Invading Your Privacy?
By Jen Reeves , March 31, 2014 10:00 AM
What city should you live in? Which Love Boat character are you? What superpower should you have?
Fun quizzes are all the rage online these days. Buzzfeed (which says I should live in Portland, Ore.) is leading the charge, but even the scholarly Pew Research Center ("How Millennial Are You?") and the New York Times ("How Y'all, Youse and You Guys Talk") have a hand in the fad. The exercises are addictive, shareable, entertaining. So what's not to like?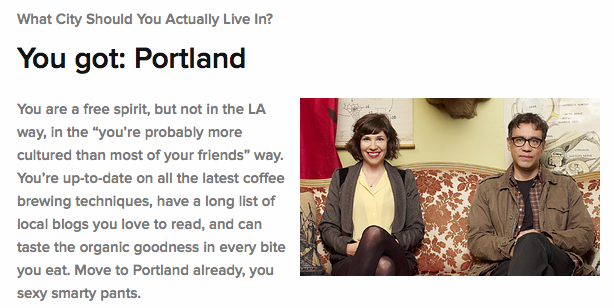 Here's one thing: According to a report from the public radio program Marketplace, Buzzfeed is using your answers to gather information about you and recruit advertisers. The company says it is also teaming up with some brands to produce quizzes that are advertisements. HBO, for example, recently sponsored a quiz about Game of Thrones, with the cheery premise that it would tell you how you might die if you were a character on the show.(It told me I'd die in a sword flight.)
>> Sign up for the AARP Money newsletter
If you take these type of quizzes, have you considered what kind of information you surrender? Just by finding out " What City Should You Actually Live In," you give up your favorite type of coffee, music, junk food, travel preference, alcoholic drink, dating interest and exercise format. If a website like Buzzfeed has enough readers answering quiz questions, it suddenly has a big set of information that helps get advertising money.
Every time you jump on the Web, of course, you're leaving a trail (unless you've learned how to browse anonymously). But the excitement of the quiz can lead you to give up information you usually hold off on sharing, according to Aram Sinnreich of Rutgers University.
"That's the brilliance of this plan," Sinnreich tells Marketplace. "Instead of us reluctantly agreeing to give marketers information about ourselves, we are emphatically proclaiming to marketers who we are and then demanding that our friends do the same."
>> Get entertainment and dining discounts with your AARP Member Advantages.
In the end, there may be no real danger, but at least for me, it takes a little of the fun away.
Credit - Screenshot: Buzzfeed
Also of Interest

See the AARP home page for deals, savings tips, trivia and more