Should Everyone Be Able to Read This Story?
By Steve Mencher, March 27, 2013 04:34 PM
If you're reading this, you probably have little reason to think about the one in five Americans who, unlike you, have no easy access to the Internet.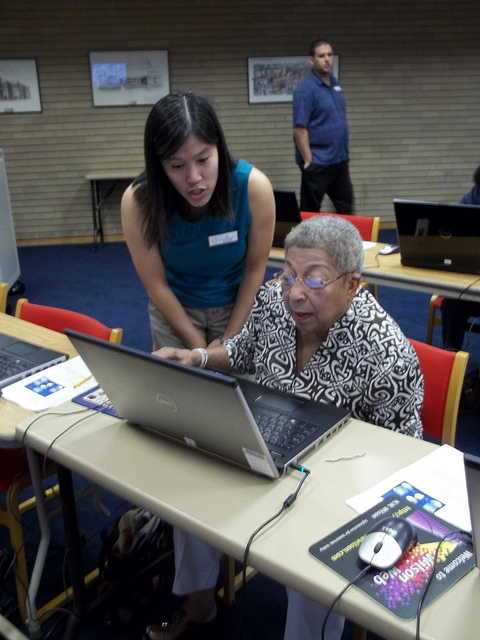 An ambitious new initiative, called " Everyone On," aims to close the "digital divide," but some experts are already complaining that the nonprofit organization driving the campaign, Connect2Compete, has left older people in its rearview mirror.

Nobody would say that young people who can't afford computers or don't have tech-savvy parents shouldn't be given every opportunity to become full digital citizens. Less well known is the growing body of evidence that seniors who don't connect - whether through lack of knowledge about the digital world or lack of resources - may become increasingly isolated from friends, family and community resources, and slip out of touch with the people and institutions that would help keep then healthy, active and engaged.

Everyone On isn't completely clear about the various audiences it hopes to serve. Connect2Compete, which grew out of initiatives at the Federal Communications Commission, says it is working with "both cable and wireless companies to provide offers of $9.95 home broadband service and $150 computers to the homes of families with children enrolled in the National School Lunch Program. We are also partnering with local community organizations to provide the same discounted pricing to children in low-income communities to expand eligibility and further reach our goals of connecting over 40 million Americans."

That's an offer that Cecilia Garcia, executive director of the Benton Foundation, and Bob Harootyan, research manager of Senior Service America, Inc. wish was also being made to low-income seniors. They have a suggestion: "There are straightforward ways to target the most disadvantaged elders. Just as C2C is using the subsidized school-lunch program for outreach to low-income families, they could reach millions of low-income seniors who already qualify for government rental housing subsidies, Supplemental Security Income, food stamps and energy assistance programs - programs serving those of all ages ... Commendable as C2C's Everyone On campaign is, we urge them to truly include everyone of any age."

Below: Watch a video from the Bill and Melinda Gates Foundation about how computer training and access to technology are changing the lives of older people in Houston.






Photo: Courtesy of Moore Memorial Public Library, Texas City, Texas



Also of Interest

Join AARP: Savings, resources and news for your well-being


See the AARP home page for deals, savings tips, trivia and more