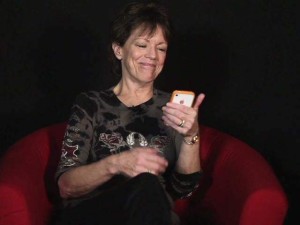 "When I first discovered that was my voice, to be honest it was a little creepy."

That's Susan C. Bennett, identified today by CNN as the voice of Siri, Apple's talking virtual assistant. At least she was the voice of Siri in the United States before two different voices began to replace her as part of Apple's new operating system.

Apple won't confirm the news, but CNN enlisted a vocal forensics expert, who is "100 percent" certain that Bennett is Siri.

Get discounts on tech products and services with your AARP Member Advantages.

Two years ago, as you can see in this video, Siri refused to come clean about her identity.


Now she has. When she recorded Siri's voice back in 2005, Bennett told CNN, she wasn't told how it would be used. For a full month, she spent four hours every day recording syllables and parts of words and phrases, which could be assembled into Siri's idiosyncratic speech patterns. Friends later recognized her voice on their phones before she heard herself as Siri.

Bennett has been a voiceover artist for more than two decades. Like many performers, she won't reveal her exact age for fear of being typecast. You may recognize her voice from other venues: If you've walked through Atlanta's Hartsfield-Jackson International Airport, she could have alerted you to guard your suitcase, or step off the moving walkway; she's told countless frustrated callers to press 1 for, well, you know; and she's a singer who's performed with Burt Bacharach and Roy Orbison.

But today, with her reign as Siri winding down, she's basking in a moment of glory, celebrating her time as the sassy, infuriating, all-knowing yet clueless voice inside millions of cellphones.

Soon she'll go back to the quiet life of a voice actor.

"You have a certain anonymity which can be very advantageous," she told CNN. "People don't judge you by how you look ... That's been kind of freeing in a lot of ways."

If you can't see the video below on your phone, try this direct link to CNN.


Photo: CNN













Also of Interest



See the AARP home page for deals, savings tips, trivia and more