The World's Simplest Cellphone Made Just for You
By Mike Lee, January 22, 2013 06:30 AM
How about a phone so simple the button controls are printed on a sticker that is applied to its face? Or a cellphone made just for you with photos of your family as speed dial buttons? Or an anti-smartphone that only makes and receives calls? A phone with all these innovations and more arrived on my desk last week from Age UK with the help of my colleagues at AARP International.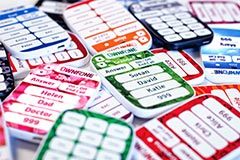 Back in August 2012, tech blogs like Engadget were abuzz with the announcement of an ultra simple cellphone by a company in the UK called Cycell that, because of its custom printed speed dial buttons, light weight and long battery life, would appeal to children and seniors. The phone is only available in the UK and was initially marketed as the Ownfone on a web site where customers could design their own phone by selecting from an array of button layouts, image backgrounds and graphic patterns. The phone would then be printed to order and shipped ready to use. The device, personalization and shipping is £55 (USD $89); and the monthly plans: £7.50 ($12)/50 minutes, £10 ($16)/100 minutes and £15 ($24)/500 minutes. The cost to reprint the speed dial sticker and reprogram the phone buttons is only £5 ($8). If the phone is lost, the replacement fee is only £35 ($56). The Age UK charity has licensed the product with selected customization options to market to its members via mail order and at several hundred neighborhood shops.

The phone is really a generic plastic pod of electronics that Cycell calls the SEED. The front of the pod has an array of buttons that are pre-programmed to only dial 2, 4, 8, 10 or 12 numbers. One of the buttons can be set to dial 999, the UK equivalent of 911 for emergencies. Other buttons on the front adjust the volume up or down, answer or end a call. The custom printed front sticker aligns with the button programming, and can incorporate family portraits and even tactile braille dots. The flat plastic housing offers a speaker, microphone, USB charging port and lanyard holes. There is a master on/off slider switch for power on the back to allow the battery to retain its charge for up to a year. There is no speakerphone, voicemail, SMS text or GPS capability. Simplicity rules this product.

I was able to charge and power up the two samples I received from Age UK (pictured above), but since the phones are currently only licensed to work in the UK, a computerized female voice said "No SIM!" I was able to hear the default musical ringtone, and at maximum volume, was plenty loud. My 83-year-old tech-shy mom commented that she would have a hard time pressing the printed buttons and suggested that a single braille dot be placed over all the printed buttons as a standard feature. She said she would also be concerned about call clarity and volume, neither of which we could test. The lanyard was a good physical security feature because she felt the small phone could be easily misplaced. The pricing plan was a non-starter as prepaid minutes would be her requirement.

Despite the astounding number of mobile phone products in the market from simple to complex, I think this phone will successfully appeal to a certain segment of caregivers and consumers who have very basic needs for a mobile phone. I applaud Cycell for driving towards simplicity in its innovations and Age UK for bringing this unique product to its membership. If this phone were to come to the U.S., what custom sticker designs and features might you want?






Photo: Courtesy OwnFone