Transportation for Older Adults Requires a Tapestry of Funding Sources
By Jana Lynott , August 07, 2013 07:59 AM
"We desperately need that service in our community, but how do we fund it?" is a common complaint I hear across the country as communities try to meet the growing demand for transportation services.
A recent publication, Weaving It Together: A Tapestry of Transportation Funding for Older Adults, addresses this important question. The report by the AARP Public Policy Institute highlights seven case studies that show how transportation providers in diverse communities combine federal grants with state, local and private-sector funding to enhance services.

Blog continues after infographic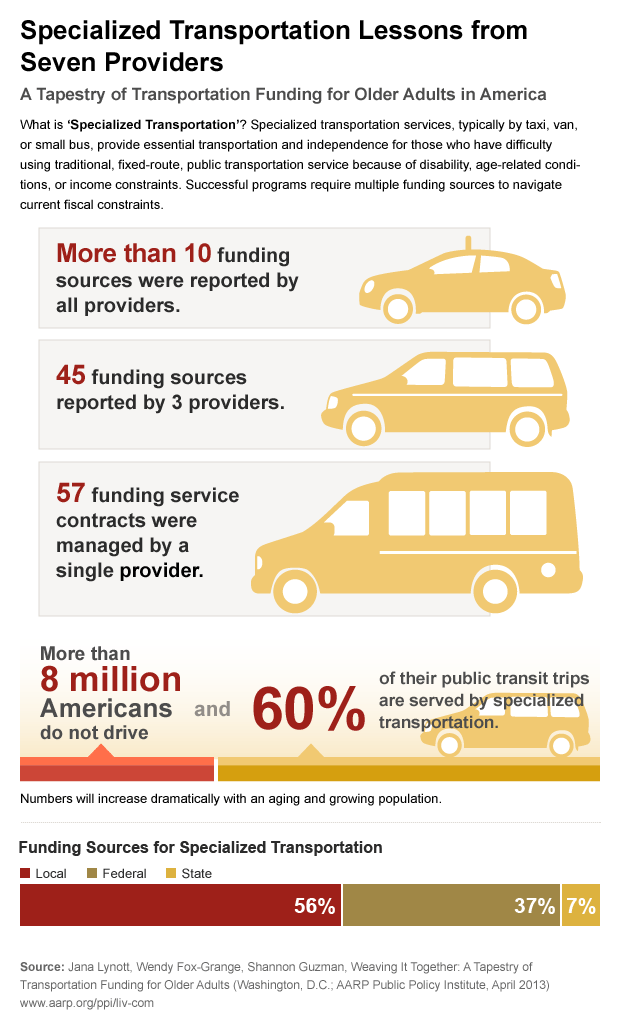 When budgets are tight, transit managers have two choices: Reduce service or think outside the box. Those featured in the report chose the latter. They have successfully marketed their transportation services to medical clinics, human service agencies and Native American tribes.
Medical Motor Services of Rochester, N.Y., forged partnerships with Wegmans, a grocery store chain, to provide a fully subsidized shopping shuttle for older adults. It also negotiated with a private nursing home to transport residents from hospitals to the facility within one hour of discharge. The largest source of Peoplerides' (Marshalltown, Iowa) revenue comes from contracts with organizations and private companies (including a hospital) that subsidize routes. "Shopping around its services" has enabled River Cities Transit to offer service in 12 counties in central South Dakota. In and surrounding Pierre, it provides service 24 hours a day, 365 days a year - a rare feature in any community, especially a rural one.
Others are taking advantage of the built-in flexibility of federal transit grants. For example, localities must match operating grants dollar for dollar. In communities where budgets are tight - and that's most communities today - transportation service doesn't always fare well against competing needs. Pelivan of Big Cabin, Okla., has forged a partnership with a Jiffy Lube, which changes the oil in Pelivan's vehicles at a discount. The value of this service counts toward Pelivan's local match requirement.
As shown in the infographic, local funding, which includes public- and private-sector support as well as passenger fares, comprises a substantial portion of the featured providers' operating budgets. However, there are still challenges to overcome. DARTS in rural Mississippi had to turn away federal funding because of insufficient local matching funds. Peoplerides had to raise fares.
One answer to these funding shortfalls is to offer taxpayers the opportunity to fund specialized transportation services. This is what voters in Marin County, Calif., chose to do three years ago when they voted to raise their vehicle registration fees by $10 a year. Thirty-five percent of the net revenue is dedicated to "improving transit for seniors and people with disabilities."
As large numbers of boomers age into their post-driving years, the ability of transportation providers to tap into multiple sources of public and private funding will be the ticket to sustaining and growing their service.

About the Author: Jana Lynott is a senior strategic policy adviser with the AARP Public Policy Institute, where she manages AARP's transportation research agenda. As a land use and transportation planner, she brings practical expertise to the research field.
Also of Interest

See the AARP home page for deals, savings tips, trivia and more