Rising Water Rates Concern Older Consumers
By Neal Walters , July 17, 2013 02:58 PM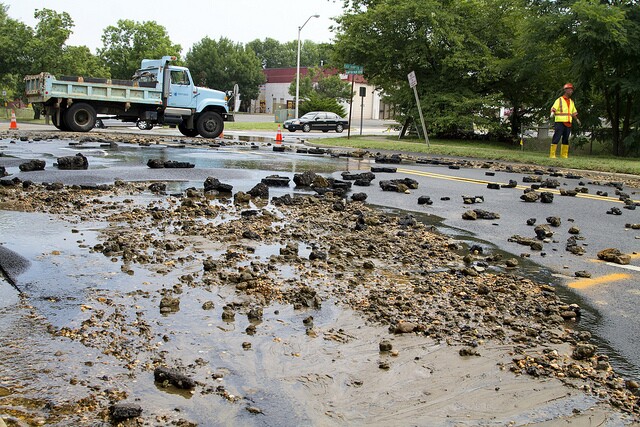 For most people, the arrival of an extended summer heat wave brings to mind cooling off by the swimming pool and children running through lawn sprinklers. But for over 100,000 residents of Prince George's County in suburban Maryland, the summer's first major heat wave arrived with the news that they will face mandatory water restrictions for several days while the utility makes repairs to a failing water main.
And it's not only water pipes that are creating problems for residents of Prince George's County. A recent heavy rainstorm overwhelmed a wastewater treatment plant and dumped 85,000 gallons of untreated sewage into a creek, creating a pollution hazard for residents. Coping with the deteriorating infrastructure in the county has led to a 50"‰percent increase in water rates over the past six years, and utility experts expect this trend to continue as the water utility addresses infrastructure problems.
While suburban Maryland is home to some of the nation's most problematic water pipes, failing and inadequate water infrastructure is a widespread problem across the nation. Water and wastewater systems are vital to public health, protecting the environment and supporting economic activities. However, much of the drinking water and wastewater infrastructure across the nation is at or near the end of its useful life. As such, it is necessary to replace and upgrade the deteriorating water infrastructure.
The costs associated with this work will likely result in continuing rapid increases in water rates paid by consumers. Keeping water rates affordable for consumers is an important issue as water rates are increasing at a much faster pace than inflation or other utility rates. This is a particular hardship for those with low incomes or on fixed incomes as the percentage of their income needed to pay their water bill increases. Finding ways to keep water rates affordable while maintaining safe and reliable water service is a key concern for older consumers.
Photo courtesy of Mark Taylor flickr

Neal Walters is a policy research senior analyst for the Consumer and State Affairs Team who publishes on topics including financial information privacy, identity theft, affordable home utilities, prepaid cards, credit reporting and the subprime mortgage market.