The Infrastructure of Inequality
By Jana Lynott , October 21, 2013 08:50 AM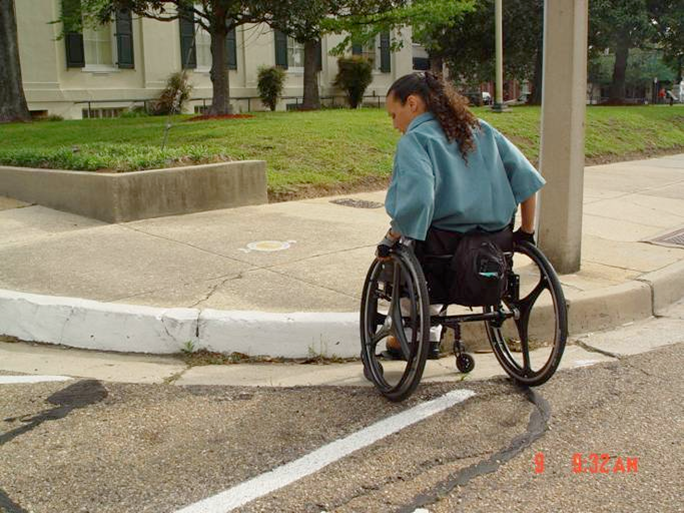 Put people first. That was a theme of the first national Walk Summit in Washington, D.C., Oct. 1-3. Unfortunately the message relayed by several participants was not encouraging. "I feel my life is worth less than nothing," said one self-described vulnerable road user as she outlined the challenges of navigating our transportation system without a car.
The Sunday before the Walk Summit, I was driving along a four-lane road in my neighborhood and was surprised to see a young man in a wheelchair, rolling in reverse in the street. At each driveway he would swing his chair fully into the right-hand lane to establish a right angle to the driveway so that he could back up the driveway to let the next car pass, then roll down again and begin the backward climb. Without a motorized wheelchair he noticeably exerted significant effort to move between the driveways before the next car emerged. Usually he was unable to get out of the way. Luckily each driver that day was focused on driving: not distracted by a call or text message or speeding. A friend accompanied him, acting as a scout to navigate this dangerous path to his destination.
"What on earth are they doing?" I wondered, before noticing the sidewalks were not navigable by wheelchair. They were too narrow and blocked by utility poles and untrimmed hedges. This is the infrastructure of inequality - places where individuals without access to a car and those who must roll rather than walk risk becoming stranded in their homes.
Most shocking was finding this infrastructure of inequality in my community - one of the nation's wealthiest counties with a complete streets policy and millions of dollars invested in striping bike lanes, constructing trails, expanding the use of a bikeshare program and planning a light rail line. Pedestrian improvements, beyond simple, low-cost ones such as the installation of curb bulb-outs and median refuge, have largely happened only in conjunction with major land redevelopment. This enables the county to negotiate with the private sector to pay the bill. Residents in these high-priced corridors enjoy the benefits of high-quality transit, bike lanes and wide, accessible sidewalks. Those in other neighborhoods may have to wait decades for accessibility.
The Americans with Disabilities Act requires that sidewalks be accessible when built or rebuilt. It does not require that communities take action to rebuild them. Given that adults with disabilities have lower employment rates and substantially higher poverty rates than those without a disability, few can afford to live in neighborhoods that would serve them best.
I applaud Kaiser Permanente, America Walks and the other organizers of the Walk Summit for placing equity front and center on the agenda as they build a movement toward creating environments where walking is safe, easy and routine for people of all abilities. To begin, we, as a society, need to put pedestrian accessibility on equal footing with funding for other transportation improvements. With more than 8,000 boomers hitting retirement age every day, we cannot delay.

About the author: Jana Lynott is a senior strategic policy adviser with the AARP Public Policy Institute, where she manages the AARP transportation research agenda. As a land use and transportation planner, she brings practical expertise to the research field.
Also of Interest