Cross "Dream Vacation" Off the Bucket List in 2012
By David Porter, January 19, 2012 11:00 AM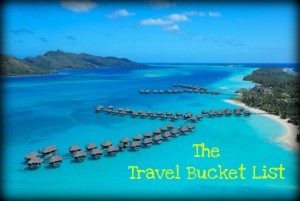 It seems likely that 2012 will provide travelers their last window of opportunity to take advantage of recession pricing as the US economy seems like it might be gasping for new life.

According to a recent report in the Federal Reserve Beige Book, "reports from most Districts pointed to solid gains or high levels of travel and tourist activity, with pickups evident in both the business and leisure segments. Tourism activity was reported to be above the levels from twelve months earlier by Boston, New York, Richmond, and Atlanta, and Boston contacts expect double-digit growth in hotel revenues in 2012."

While this pickup in travel activity is not yet reported in all of the Federal Reserve's twelve districts, there is optimism in the air. Therefore, it is time to work out a plan to get that dream vacation off of your bucket list.


Other than airline fuel costs and small inflationary price increases, 2012 looks to still be a buyers market for leisure travelers and we're encouraging you to get out there and take advantage of it.

5 Tips to get Your Dream Vacation off Your Bucket List in 2012
The Secret of Shoulder Season Travel
It's a case of simple economics, if you travel to popular locations, in peak travel times, you are going to pay top dollar to travel.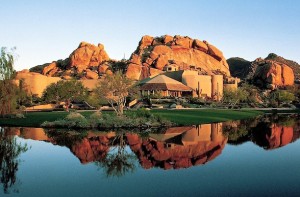 I am writing this story from Scottsdale, Arizona. Currently, our streets, restaurants, hotels, resorts, and golf courses are packed with snow birds and seasonal travelers looking to escape the cold and snow from northern locales.

If you come back here again in July, when temperatures are consistently hovering around 110 degrees, you will find deals galore and significantly less people around vying for that top-chef restaurant reservation.

However, what many travelers don't pay attention to is the shoulder season that exists here in Scottsdale. After Easter, the snow birds and seasonal travelers head back north, while we are still enjoying wondrous weather and emptying hotels.

Bingo!

One of the best times to visit Scottsdale, Arizona is in May & June before the sweltering heat of the monsoon season comes rolling in. You still have perfect weather, and you will save significantly as the hotels start to reduce prices to keep their numbers up.

Many travel guides will list the "best time" and the "worst time" to visit. Consider visiting in between, and save hundreds of dollars.

Our travel friend Melanie Waldman has written a very informative piece that will share the various shoulder seasons around the world. Click here to read: Five Shoulder Seasons Around the World.

Use Social Media to Monitor Travel Deals
Beside the seasonality of travel, there are a myriad of reasons that a particular airline, destination, hotel, resort, or cruise ship might be having a sale.

With Facebook and Twitter at your disposal, you now have a daily direct link to the heartbeat of the travel industry. You simply must use these social media tools to find great travel deals.

Homework: immediately start following your favorite airline, destination, hotel, resort, or cruise ship on Facebook and Twitter to monitor travel deals.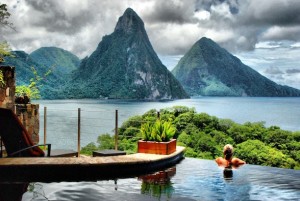 For airlines, besides their individual social media sites, Carol like to use AirfareWatchdog.com and FareCompare.com. Both will monitor flights from your town and send you savings travel alerts via email, Facebook, and Twitter.

We were talking to Mike Taylor, Public Relations Director for Fairmont Hotels & Resorts, and he had this to say, "a great option is to look for hotels, destinations, etc. celebrating special anniversaries or milestones. Often special offers, promotions, and other activities take place around these types of events and it's a great way to experience the venue/locale. We have 2 hotels, Fairmont Chateau Laurier in Ottawa and Fairmont Copley Plaza in Boston, celebrating 100th anniversaries this year and both hotels have quite a bit of activity taking in celebration of these very special birthdays."

Great idea! We're headed to London, England and we're hoping to spend a few nights at the newly reopened, 100+ year-old Savoy which recently received over $100 million dollars in renovations. They've received a LOT of hoopla, and we've been following along on Facebook.

Brandyn Hull, Regional Director, Public Relations for Kimpton Hotels & Restaurants-Pacific Northwest told us that free loyalty programs are another great way to keep abreast of special deals available: "It's free and very easy to sign up-and then you are privy to TONS of amazing deals at Kimpton Hotels all across the country."

Use the Services of a Travel Professional
Although the Internet has cleared the industry of the mediocre travel agent, the strong have survived and are providing valuable services to their clients. Travel is not necessarily more expensive because it comes through the services of a travel agent. Plus, agents that are associated with groups like Virtuoso will bring a passel of perks that you aren't likely to find on your own.


Paula DeDario-Martori, Director of Sales Southwest with Regent Seven Seas Cruises, says, "contact a travel professional especially when it comes to Luxury cruises- adventure travel etc. There are agencies that specialize in cruises and luxury cruise/vacations that are members of various consortia and specialist in certain destinations- as well as theme cruises like food and wine, jazz cruising, 50/60's Rock and Roll throughout the country.

They should not be afraid to ask questions of the travel professional and have an interview to see how knowledgeable they really are in the areas they are looking for. Furthermore, they should not to be afraid to ask if they have been there done that... chances are someone in the agency has."

Consider Bundling Packages Available Through Major Airlines
It's no secret that airlines have a distinct advantage in putting travel packages together. They have buying power with resorts world-wide, and they have the ability to bundle those savings with discounts on their own airplanes.

In fact, we have taken to an annual jaunt with Delta Vacation Luxury Lifestyle Collection for this very reason. Last year, we ventured to the Dominican Republic flying first class and enjoyed a fabulous AAA Five-Diamond resort through Delta Vacations.

Sean Cuthbertson, Internet Marketing Manager - Social Media, with Delta Vacations, says, "By booking your flight and hotel together with Delta Vacations you save money. Delta Vacations receives exclusive airfares on Delta Air Lines and since we send millions of people on vacation we're able to negotiate special rates on hotel stays. Together is always better!"

Find Travel Deals During "Dead Week"
While already recently come and gone, "dead week" is what the travel industry calls the period of time after Thanksgiving travel and before the year-end holiday travel season begins.

Sometimes, you can also find "dead week" deals right after New Year's as well. For example, Hawaiian Airlines was recently offering round trips from LA to Honolulu for $457. During the busy holiday season, that same flight was $834.

Therefore, consider traveling when most of the world's travelers are not likely to be traveling and you can save as much as 50% off your airfare.

Well, there you go. With a little homework on your part, we have shown you some of our best travel secrets to help you save hundreds, if not thousands, on your dream vacation.

The balls is now in your court. Start today and let's get that dream vacation of yours off the bucket list.

Who knows, perhaps our paths will cross in some beautiful, romantic, south-sea island!

David and Carol Porter are contributors on the AARP blog, blog regularly at theroamingboomers.com and keep us updated on their travels via their Facebook and Twitter accounts.