Cruise Tips: Saving Money on Shore Excursions
By David Porter, May 25, 2012 05:58 PM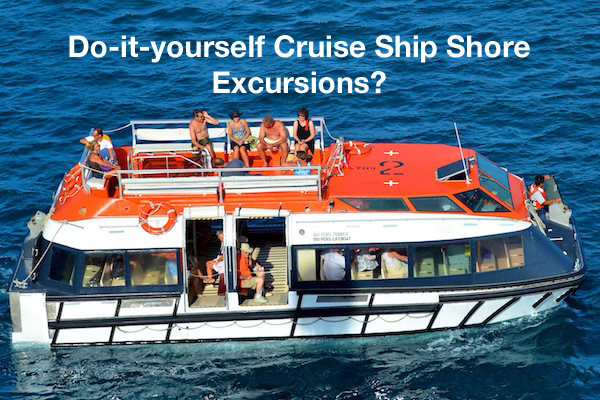 Ocean cruises are hugely popular with the baby boomer traveler.

We are often asked, "should I plan my own shore excursions and try to save a little money?" Our answer is: it depends.

With the advent of the Internet, it is completely possible to plan your own shore excursions, and perhaps save a little money. However, do-it-yourself shore excursions do not come without an element of risk. What if, for example, your do-it-yourself shore excursion gets you back late to the dock? Will they provide you with a nice bottle of wine as you watch your cruise ship sail into the horizon?

Do-it-yourself Shore Excursion Options
Local Tourism Boards - As professional travelers, this is one of our favorites. Depending on the size of your destination, it is quite likely that your destination will have its own website. If your destination is one that is frequented by cruise ships, there are certain to be many tour options listed. We would further recommend a phone call to someone at the destinations website to get a local persons perspective and opinion. As an example, here is the "what to do" page from the US Virgin Islands website.
Trip Advisor - With millions of people logging on to Trip Advisor to share their experiences, this site is well worth a visit to get a few ideas. If we look at the island of St. Thomas, for example, there are nearly one hundred tours listed in their "what to do" section. Many of them have well over 100 peoples impressions.
Shore Excursion Websites - We don't have any personal experience with these, but as you might imagine, the Internet is chocked full with folks contending to be the shore excursion superstore. You might explore PortCompass, Shore Excursions, Shore Trips, or Viator Shore Excursions which pledges a low-price guarantee.
Private Tour Guides - Head to Google and type in "Private Tour Guides + "Your Destination". Again, this will vary widely depending on your destination, but if you loathe being cooped-up with a bus-load of people, this might provide a smaller, or perhaps ever private option.
Rent a Car - For those of you who are rugged individualists, you may want to rent a car and simply head out on your own. Again, this will vary wildly on your destination. For example, there's no way I would want to drive the streets of Rome, but we did rent a car on the island of Bora Bora and did a little of our own exploration.
Hang Around the Port - Depending on your port-of-call, you might simply want to hang out at the port. When we were in Ketchikan, Alaska, we found a delightful foot-tour of the city and wandered off by ourselves on foot.
Hop-on-Hop-Off Bus Tours - If your destination is a large city, you will find wonderful hop-on-hop-off bus tours that will get you around to the major sites.
Disadvantages to Do-it-yourself Shore Excursions
Getting Left Behind - As I mentioned above, if you go off on your own, the cruise ship has no idea where you are. If you're not back in time, they may just leave you behind.
Homeword Required - Don't overlook this. If you go off on your own, you will likely need to personally communicate with a local merchant. This may involve foreign language, foreign currency (they may not take a credit card), and certainly the tour operators dependability. When dealing with the cruise ship's packages, they will have taken care of all of this for you.
Time is Money - This will vary from person to person, but just how much time do you want to spend to save $40? Some will answer, "no time", and some will answer "however long it takes". As professional travelers, we know how long it takes to figure all this stuff out. If we didn't have professional contacts in our destinations, we would be looking long and hard at the cruise ship's excursions. Certainly we would explore other options, but in our view, the time, hassle, and risk isn't worth $40 to us. If the savings was significant, we might be persuaded to go off on our own.
Important note: if you do go off on your own excursion, make certain to bring your passport and credit cards. We've read horror stories where folks have gone off on their own with only their cruise ship's door key in their pockets, and they've missed the boat. Can you imagine? ACK!

I suppose the disadvantages might seem a little scary. But to be sure, untold millions of people have planned their own shore excursions, saved a few shekels, and had wonderful experiences.

We want you to know that there is no one-size-fits-all answer to this question. It depends on your destination, your willingness to plan well, and the amount of time you are willing to invest.

Do you have a trick for great shore excursions? Tell us more in the comments!

David and Carol Porter are contributors on the AARP blog, blog regularly at theroamingboomers.com and keep us updated on their travels via their Facebook and Twitter accounts.