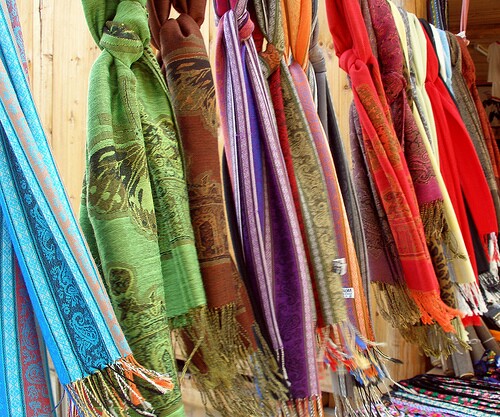 Textiles with strong geometric patterns, stylized jackets representative of ethnicities of countries in Africa, Asia, South America, and Europe and wall art that captures daily life in settings around the globe made up the major items on my travel shopping list for several decades. But recently things changed. I downsized my living accommodations significantly, precipitating the selling and giving away of some furniture and prized belongings.

This so called 'editing' process included not just many of the dozens of items collected over thirty odd years but a decision that I would now sharply reduce purchases on my travel adventures. Now I don't mean giving up shopping entirely. What fun would that be? But I decided to make some major changes in 'what' I purchased.



As I looked seriously at budget and space to house any new purchases, I realized that size was truly important. For one thing airlines charge an arm and a leg for bags and overweight fees are ridiculous. Shipping is now out of sight for my budget so I realized that I would have to select items that were light weight and would fit comfortably in my purse or carry on. This obviously limits selection.

The shopping decision: jewelry and scarves. These two purchases are small in size and price points depend on my financial situation at the time of my trip. But the choices in fabric, metals, stones, beads, etc. in almost any part of the world are so fabulous that I still can have a wonderful time sashaying around and haggling for bargains in markets and bazaars around the world as I seek delightful products that will fit handily in my purse or tote.

For example on a recent trip to India, I purchased several colorful silk scarves at a major bazaar in Agra that I managed to secure for one third of the suggested price, purely by my sustained bargaining with a vendor who really wanted to sell his wares. Also in India, I selected several dozen colorful bangles (great gifts for female relatives) for a ridiculously low $5.00 at an outdoor market stand.

These kind of small purchases memorialize the places I visit and of course, give me pleasure when I wear or give them as gifts.. Plus, I have decided that I truly like the idea of accessorizing with scarves in addition to jewelry and right now scarves are the 'in' accessory.

So there it is, my new direction in shopping. So far it's working perfectly for me. I'll just go with the flow and remember my new mantra -yield not to temptation!

Ciao!

- Granny Pat

(Tomorrow, Granny Regina will tell you a few tips on bargaining in the US. Stay tuned!)

Photo: Scarves for sale near Ping'An village, near the city of Guilin in Guangxi Province of China. This Zhuang ethnic minority village is located high in the Longji mountains next to the famous Longji rice terraces. Via.