Grannies on Safari: Willow Pond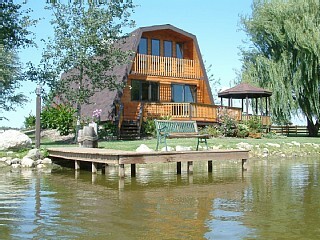 Most people think we only travel to far away and exotic places to shoot our television travel series, and in most cases that would be the case; however, I found a wonderful place to spend a weekend or even a week, and it's not to far from my home.
"On Willow Pond" in Bangor, Michigan is an ideal place to visit all year long because there are a lot of things to do in each season. It's small and private and offers three beautifully built A-frame homes, two that are available for rental and are stocked with everything you need - towels, soap, shampoo, trash bags, coffee, tea etc. One home has three bedrooms and the other two. Both have fireplaces, DVD players, washers and dryers, and wireless internet connections!
You do have to bring food if you want to cook, but you could also eat at the many restaurants in the area. We opted for cooking breakfast and lunch but going out for dinner and bringing home a doggy bag. There is even a fire pit outside the larger home where we toasted s'mores.
During summer you can fish in the pond right from your deck, catch frogs (like we did), sit in a swing in the covered gazebo, hike in the woods, or ride a horse through the woods with a guide. The property also offers the Willow Tree Equestrian Center with very reasonable prices ($25 for an hour for one person and $15 for each additional rider). The center offers carriage rides and in the winter they have sleigh rides - just like the old times!
My seven-year-old granddaughter is taking horseback riding and asked if her Granny would ride with her. I hadn't been on a horse in a while but wanted to share this experience with her. Tanya was our guide and her horses made for an exciting, yet peaceful, hour-long ride through the woods.
In my opinion, family vacations are a wonderful time to relax, do something different and spend time with people you love. I loved On Willow Pond for just this reason.
- Granny Regina
Photo: Willow Pond via homeaway.com