How to Protect Yourself From Pickpockets When Traveling
By David Porter, December 05, 2012 06:00 AM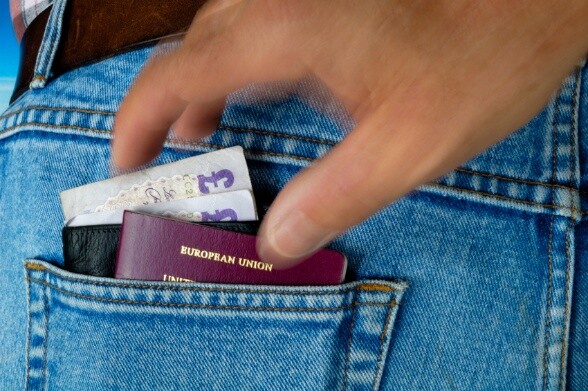 For baby boomer travelers, there is no better way to have your dream vacation ruined than having your wallet, purse, passport, or credit cards stolen.

We know this from personal experience, as Carol had her purse stolen a few years ago when we were visiting Rome. Inside the purse was her passport, wallet filled with cash and credit cards, and other valuables and goodies that women like to keep in their purses.

We spent nearly three hours in an Italian police station reporting the theft. Then, we had to call all of our credit card companies, and to top it all off, we spent nearly a whole day getting Carol a new passport at the American consulate's office.

What a mess!

Let me just say that we are now a lot more careful when we travel. Here's a few things we've learned:



As much as possible, try not to look like a tourist. Standing with a camera around your neck, wearing your brand new checkered Bermuda shorts, while reading a map is practically screaming, "come steal my stuff."

Photocopy important documents. Make a copy of your passport, driver's license and both the front and back of your credit and debit cards to keep in your hotel room's safe. If you do suffer a loss, you will be very happy to have copies of these documents.

Ladies, if possible, do not carry a purse. If you must, consider buying a women's travel purse, a cross-body style that sits safely in front of you, rather than hanging on your shoulder. Keep it on at all times and never put it on the back of a chair.

Men, keep your wallet in your front pocket. Even better yet, don't keep it in your pockets at all. We travel with a small backpack that carries our camera, water bottle, and important documents. What's nice about this backpack is that it is impervious to pickpockets. All of the entrance zippers are between my back and the pack itself and we only keep maps and such in the side zippered pocket. Here's a link. Backpacks are fairly ubiquitous nowadays and they blend in very well.

Protect your cell phone. With all of the personal information stored on our cell phones these days, make certain to protect and hide your cell phone on you as much as you would your cash.

Be alert. Pickpockets roam in very crowded areas. They will observe you, look for a weakness, and the "strike" might only be a slight bump on a crowded subway, bus or tourist attraction. However, be wary of wondering alone on dark streets. Bolder thieves will simply accost you if they see you alone.
We're certainly not here to make our readers afraid to travel! Having said that, and having been a victim of thieves while traveling, our desire is to simply increase your awareness so that your vacation is wholly enjoyable and isn't clouded by theft as ours was.

Happy and safe traveling!

David and Carol Porter are contributors on the AARP blog, blog regularly at theroamingboomers.com and keep us updated on their travels via their Facebook and Twitter accounts.