How to Survive Busy Airports During the Christmas Season
By David Porter, December 20, 2012 12:27 PM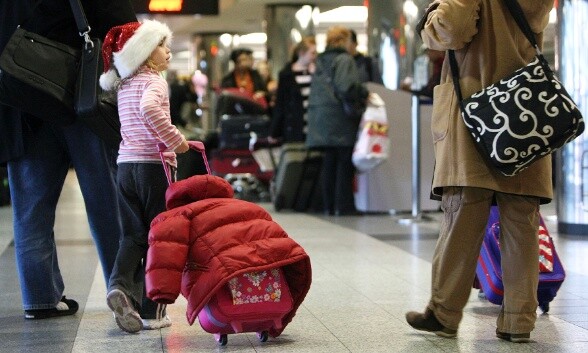 Tis the season for chaos, conniption fits, and cancellations in our nation's airports. To help you arrive at your destination with your sanity intact, here are a few holiday travel tips to follow:



Arrive at the airport earlier than normal. Seriously. A great deal of the stress found at our nation's airports during very busy times is caused by late travelers. The airports are certain to be busy, and arriving an hour earlier than normal is certain to alleviate the potential of stress from harried crowds.

Know your backup plan in case your flight is cancelled. With snow hitting the Midwest this weekend, the Friday before Christmas is shaping up to be a rough day for airlines. Be prepared - knowing other flights that can get you to your destination can help you adjust quickly when talking to a stressed airline agent. Most airlines are now under flexible rebooking policies due to the storm; if you're headed to the Midwest or Northeast, you might want to change your flight now. Oh, and save your airline's 1-800 number. Here's a list of all of them. 

Weigh your luggage at home. The maximum weight allowed for your checked bags is 50 lbs. Believe me, there's nothing worse than digging through your undies in a massive crowd looking for items to remove from your bag to reduce its weight. Plan ahead, and save yourself a lot of grief.

Not all foods are allowed. Cakes, pies, bread, donuts, turkeys, etc., are all permitted. Here is a list of items that should be placed in your checked bags or shipped: cranberry sauce, creamy dips and spreads (cheeses, peanut butter, etc.), gift baskets with liquid or gel food items (salsa, jams and salad dressings), gravy, jams, jellies, maple syrup, oils and vinegars, sauces, soups, wine, liquor and beer.

Wrapped gifts are allowed, but not encouraged. It is recommended that you wait until you land to wrap your gifts. If there is something in your gift that needs to be inspected, you are likely to be required to unwrap the gift. This slows the line down and will produce a steady stream of uncomfortable looks from your fellow passengers.

Beverages. Wine, liquor, beer, and all of your favorite beverages are permitted in your checked baggage. You can also bring beverages packaged in 3.4 oz or less bottles in your carry-on bags in the allowed in the 3.4 oz baggie. Pay heed - you certainly don't want to leave your favorite bottle of wine with the TSA agents.

Snow globes. Evidently, folks have been having their snow globes confiscated by the TSA. The TSA now allows small snow globes in carry-on luggage when packed in a passenger's plastic 3.4 oz bag. Snow globes that appear to contain less than 3.4 ounces (approximately tennis-ball size) will be permitted if the entire snow globe, including the base, is able to fit in the same one clear, plastic, quart-sized, re-sealable bag as a passenger's other liquids.

Double-check your bags for guns. I know, this sounds silly. But it's amazing how many folks have guns confiscated at the TSA checkpoints every single day. Save yourself the hassle of a bag check, a police interview and a potential arrest by making sure you leave your gun at home.

Christmas Sweaters. The TSA has announced that while Christmas sweaters can have a nauseating effect on passengers, they are currently permitted through all TSA checkpoints. ;)
For additional information on holiday airline travel, the TSA recommends that you familiarize yourself with their "What to Know Before You Go" page.

Above all, we wish you safe travel and pray that you greatly enjoy your time with loved ones during this coming holiday season.

David and Carol Porter are contributors on the AARP blog, blog regularly at theroamingboomers.com and keep us updated on their travels via their Facebook and Twitter accounts.