London 2012 Olympics Through the Eyes of London's Top Concierge
By David Porter, July 27, 2012 06:19 PM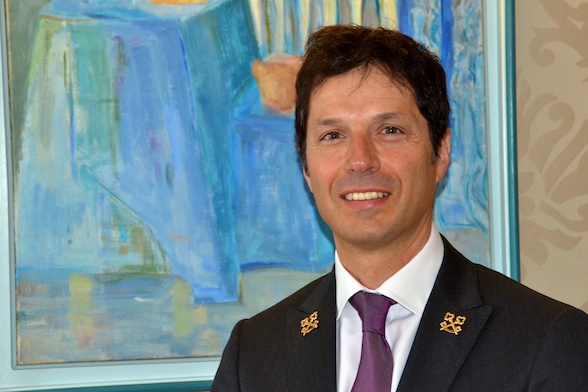 As I write this, Londoners and travelers from all over the world are descending on the London 2012 Olympic Stadium for the much anticipated Opening Ceremony.

It will be another 8 hours before we get to see this fabulous ceremony here in Scottsdale, Arizona. However, I was wondering what the mood was on the streets of London and decided to reach out to our new London friend, Frank Laino.

Frank is considered to be one of London's preeminent hotel concierges, working at the landmark Stafford Hotel London, and so I thought I would throw a few questions that might be on the minds of travelers from this side of the pond.

Interview with Stafford Hotel London Concierge, Frank Laino
With the London 2012 Olympics in full swing, what is the mood like in London from a Londoner's perspective? How about the mood of London's visitors?

London was eerily quiet earlier this week. Many businesses have scaled down operations and have been encouraging staff to work from home. That combined with school holidays meant that things were oddly calm, however from Wednesday onwards there has been a gradual influx of Olympics visitors which turned into a flood today. All of a sudden, there is absolutely nothing else that anyone is talking about other than the Games, and everyone I know can not wait for tonights opening ceremony.

From a travel professionals perspective, do you feel like London is well prepared for the onslaught of international travelers?

Yes I do. I think there will be less business traffic on the road which will keep things moving. The real pressure is on public transport as everyone is being told to use it, but I think it will cope.

From a Londoner's perspective, what does it mean to you to host the 2012 Summer Olympics?

We are a generally grumpy and cynical lot, but if you scratch beneath the surface all native Londoners are proud of their city and I am certain that will become evident as the Games progress. We are desperate to put on a really good show.

Is your hotel sold out?

Yes and No - we still have a small amount of availability for various dates - and don't believe what you read about sky high rates.

What are the top five questions you are getting as the preeminent concierge of London?

How bad is the traffic?
Can I get tickets for the Opening Ceremony?
Where is Stratford?
What happens if it rains?
Will the Queen be lighting the Olympic Flame?

In conclusion, on behalf of London, what would you like to say to all who are visiting London for the very first time?

A very warm welcome to our unique, historic, multi-cultural city. We are going to do everything we can to put on a great show for you, and I hope this will be the first of many future visits for you.
We made our way to London with our "Roaming Boomer" hats on this past April. We greatly enjoyed the city, and we're looking forward to watching this year's Olympics from the perspective of our recent visit.

Thanks to Frank Laino with the Stafford Hotel London for answering our questions, and here's a nice glass of Pinot Noir raised in salute to all of the athletes now competing on the world's stage at the London 2012 Olympics.

Salute!

David and Carol Porter are contributors on the AARP blog, blog regularly at theroamingboomers.com and keep us updated on their travels via their Facebook and Twitter accounts.