'Rendezvous Tahiti' Celebrates Exotic Travel and AARP
Rendezvous Tahiti: A True Story of Love and War Across Six Continents by William Stephan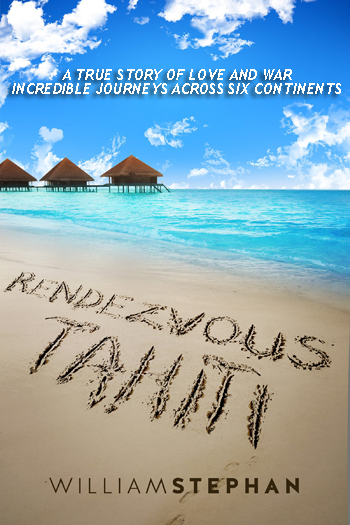 On Aug. 19, 1968, the U. S. Army honorably discharged William Stephan. Choosing California over his native Madison, Wisc., Stephan started looking for a job immediately. As he describes in this charming memoir, his life changed forever the moment he stepped onto the fourth floor of the Ethel Percy Andrus Building in downtown Long Beach, Calif.
Just 72 hours after he had been holding an M-16 in Saigon, Stephan was hired to be an international tour director. From 1968 to 1973, he led groups of 25 to 30 AARP members on 200 tours through 127 countries. In gratitude, he dedicates Rendezvous Tahiti to AARP's founder, Ethel Percy Andrus, though he never met her. She died in 1967 before he began working at AARP.
Stephan weaves together his adventures as a tour guide with his passion for a beautiful but elusive young woman named Amy, whom he first meets in Papeete, Tahiti. Stephan writes with zest about this magical paradise, its Polynesian culture and spectacular landscape. He also captures how different travel was before ATM machines, cellphones and email, or text confirmations for hotel and airplane bookings. He also touches on his own difficult adolescence and explores the question of why some people crave adventure and others prefer to stay put, utterly devoid of wanderlust. Perhaps it is genetic: Stephan's older brother Ed is also an adventurer, having cofounded Royal Caribbean Cruise Line.
Get discounts on hotels, airfare, car rentals and more — AARP Member Advantages. »
Among the more exotic places Stephan guides his tour groups through: the 700-mile Sepik River in Papua New Guinea, the ancient African city of Timbuktu in Mali, and Siberia during the Soviet era. His time as a tour guide is not all fun and games. Stephan almost dies from dehydration during bouts of seasickness as he pursues Amy across the South Pacific.
This tale of romance and travel ends with a surprise. If you are someone who enjoys reading about — or just imagining — exotic places to visit, consider booking some time with Rendezvous Tahiti.
Also of Interest


See the AARP home page for deals, savings tips, trivia and more.