Rhapsody "In Bruges"-A Fan of the Film Visits the City
By Bill Newcott , March 20, 2013 04:54 PM
You know how the Disney parks have rides that let you re-live great moments from movies like The Little Mermaid and Snow White? And how at Universal you can "ride" Jurassic Park and the Harry Potter films?
Well, if one of your favorite films is the cult classic In Bruges-and it's one of mine, for sure-then a visit to the Belgian city of Bruges is a lot like hopping on an In Bruges theme park ride.
Join the discussion: Going to New Orleans and looking for places to go and see
For the uninitiated, In Bruges is a pitch-dark 2008 comedy about two hit men named Ray (Colin Farrell) and Ken (Brendan Gleeson) hiding out in the ancient city while awaiting orders from their unhinged boss Harry (Ralph Fiennes). In the course of the film, Ray and Ken walk the streets of Bruges, drink in the bars of Bruges, jump out windows in Bruges, and generally cover just about every street of Bruges, which is a rather compact Medieval town.
So you can sit in front of the clock tower, where Ray called a fat American family "a bunch of elephants":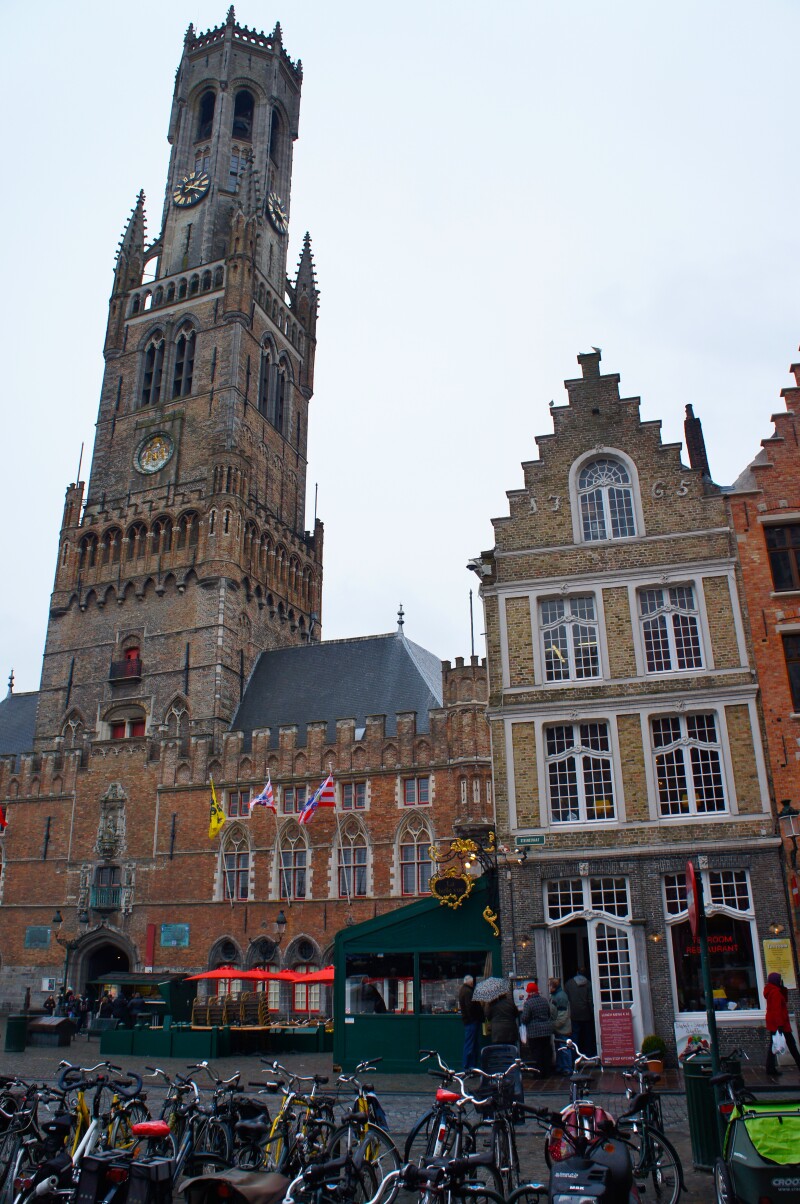 And you can look across the canal at the double-gabled hotel where Ray and Ken stayed: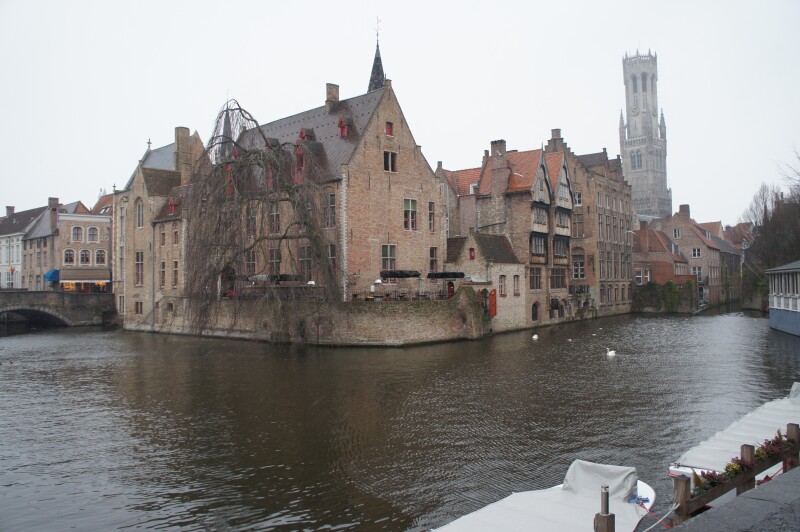 And you can admire the city's "Lake of Love," where Harry first arrived in town: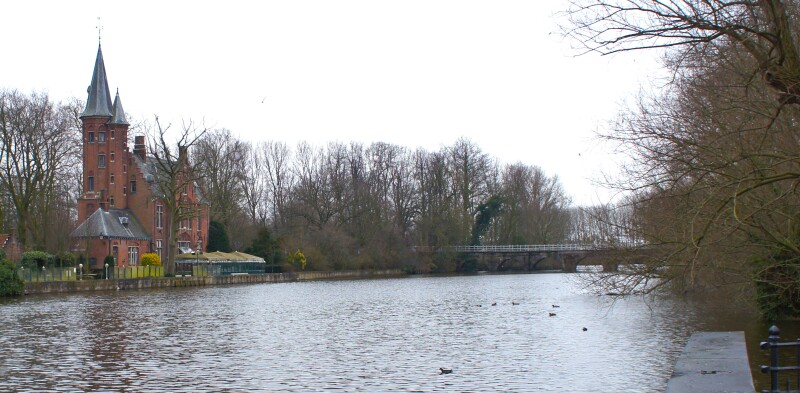 And you can visit the church where Ken wanted to touch the vial of Holy Blood: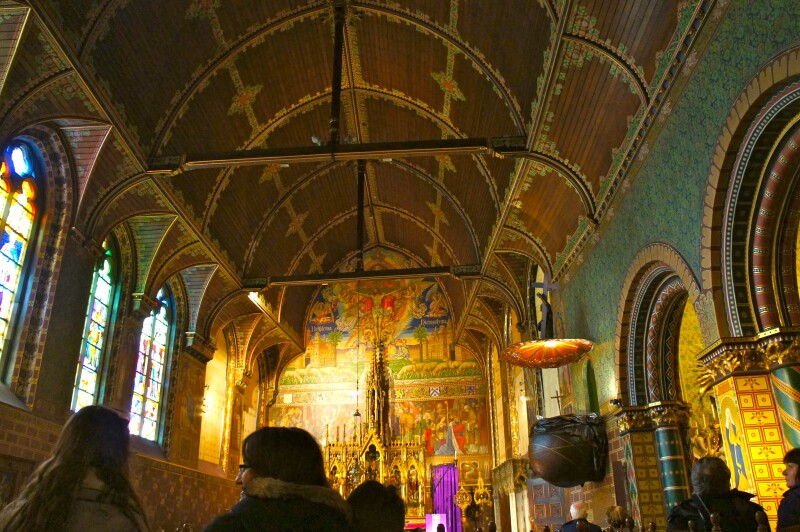 Just strolling through the streets of Bruges (pronounced "Brooge") will have you quietly reciting memorable lines from Martin McDonagh's Oscar-nominated script:
Jimmy (Jordan Prentice): She ain't my girlfriend. She's a prostitute I just picked up.
Ken: I was not aware that there were any prostitutes in Bruges.
Jimmy: You just have to look in the right places. (pause) Brothels are good.
____________________
Ray: Maybe that's what Hell is, the entire rest of eternity spent in (expletive) Bruges.
____________________
Harry: You realize there are no bowling alleys in Bruges...What are they going to have? A medieval (expletive) bowling alley?
Come to think if of it, an awful lot of lines from In Bruges-most of which we can't reprint here-are rather unflattering toward the town. By the time the movie's over, you might think it's not such a nice place. But you'd be wrong. The day I was in Bruges the sky was darkly overcast, there was a sloppy rain-and-snow mix falling, and the wind was whipping like an Alaskan typhoon. But all of that only added to the town's grayish, Medieval tonalities, like a Ruisdael painting come to life.
A short walk along shadowy Steenstraat leads you past one irresistible chocolate shop after another, their windows jammed with candies molded into any shape you can imagine (plus some you'd have to be pretty twisted to dream up). The street empties you out onto the vast Grote Markt, dominated by the town's landmark bell tower. Duck through a narrow alleyway or two and you'll emerge onto another square dominated by the Basilica of the Holy Blood, behind which hides perhaps the most charming chocolate shop in the city, The Chocolate Crown.
Down some wooden stairs from the shop, you can board a small open boat and tour the town's canals. Of course, on the day I was there punishing snow squalls slashed at the faces of everyone who braved those boats. As for me, I sat overlooking the canal, safely behind the glass of a pub called 't Klein Venetie, cradling a hot chocolate in my hands and chuckling softly.
A recurring line in In Bruges goes something like this: "Where the hell is Bruges?" The place is quite out of the way, and that's probably why relatively few tourists find it, particularly Americans. There's no major airport, and driving across Europe is not something most of us do. I would never have found Bruges myself had it not been on the itinerary of a river cruise-probably the best way for the less-than-seasoned traveler to experience off-the-beaten-track Europe.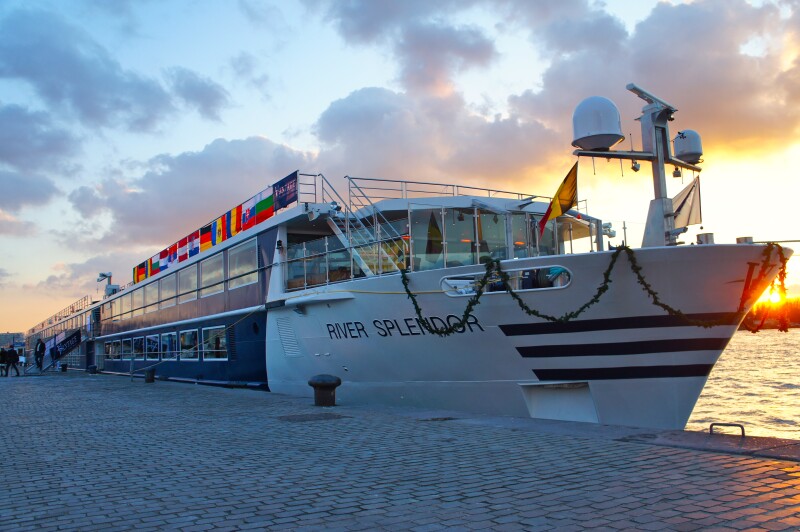 Viking River Cruises will take you to Bruges, as will Avalon River Cruises and Grand Circle Travel. I got to Bruges on a Vantage World Travel ship. The line recently launched some new boats, which have made Vantage the only line on European rivers with one-person cabins that don't require you to pay a single supplement.
Ken and Ray would probably have enjoyed going to Bruges on a river cruise. But they would most likely have stayed in the same cabin. And they would probably have been there to whack the captain.
(Photos: Bill Newcott)