The No. 1 Aspiration of the 50+
By Becky Gillan, June 19, 2013 12:41 PM
Whenever we ask folks ages 50 and over what they are most looking forward to doing in their later years, more often than not their response is, "Travel!" Travel is the No. 1 aspiration of the 50-plus. People want to travel to experience new things and spend time with family and friends. It makes them feel happy and fulfilled.

I think the desire to travel and explore starts at an early age. I remember summer days getting my bike, a bag packed with a sandwich and soda, and exploring the neighborhood and woods around my house. In my Atlanta suburb, I discovered old underground railroad caves and hand-carved flint arrowheads.

 Travel is the No. 1 aspiration of the 50+.

My parents took my sister and me to Europe for the first time when we were 15. I loved every museum, church, monument and store. My new favorite words were "saldi"or "vente" (sale in Italian and French)! I took my niece to Italy right after high school graduation a few years ago. She was dying to go to Italy because of the irresistible photos of the Venice gondolas and canals she had seen. Pizza making in Pisa and Venetian masks turned out to be her favorite experiences. We both liked eating al fresco to watch the local citizenry. My niece did have her limits on learning about the history and culture - one museum or church per day was enough - not to be confused with gelato, which she wanted constantly. This trip was arranged by a fabulous travel company. AARP has learned that their members want to share these experiences with family as well, and they are tailoring new offerings to focus on intergenerational travel.

My niece is now about to graduate from college and now travel for her is all about adventure. She wants to go white-water rafting in Australia and New Zealand with her friends. She told me going to London and Paris would be good too, but only if I could find more museums like the Ferragamo Shoe Museum at their flagship store in Florence. As for me, wandering is in my blood. I haven't done a big trip since Italy. In 1986, I went to China on a tour. Lately I've been looking at tours to Cuba in 2014 as that country is still "new" for most people and seeing the country before it becomes a haven for tourists is my idea of exploring.

As our latest fact sheet on travel can attest below, I'm very much like my peers in enjoying traveling. What's your next destination?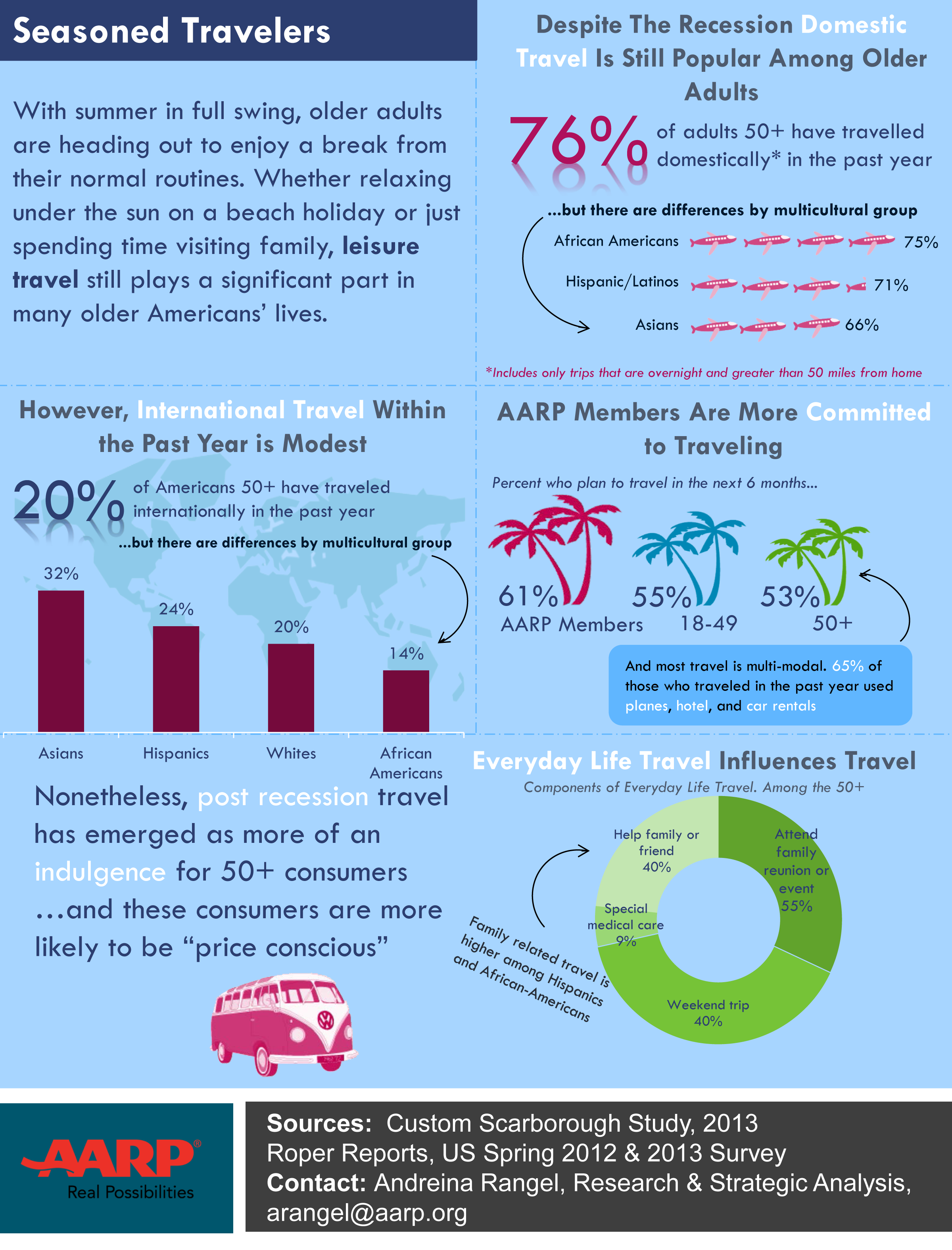 More on Becky: Becky is AARP's Senior Vice President of Research & Strategic Analysis, and is focused on fostering understanding of the interests and concerns of people age 50-plus and their families. Before coming to AARP, Becky served as the Vice President of Global Market Research & Guest Satisfaction for Starwood Hotels & Resorts. In her spare time, she likes visiting her niece in Ohio, gardening and collecting American art and antiques.