Age Divide Narrows on Hot-Button Social Issues
By Tamara Lytle , June 06, 2013 11:50 AM
Older Americans are moving closer to younger people in their views on a wide range of moral and cultural issues, including many at the center of contentious legal and legislative battles, a new Gallup report shows.
"Americans' fundamental views on several issues that define the nation's culture have changed in important ways since the start of the last decade," Joy Wilke and Lydia Saad of Gallup write. "Gallup trends by age show that (in every case) increasing acceptance of several matters relating to sexual relations, as well as divorce and stem cell research, have moved closer to the views held by the youngest generation of Americans. In some cases, this has resulted in transformative change, with majority acceptance emerging in the past decade, and in others, it has resulted in expanded majority acceptance."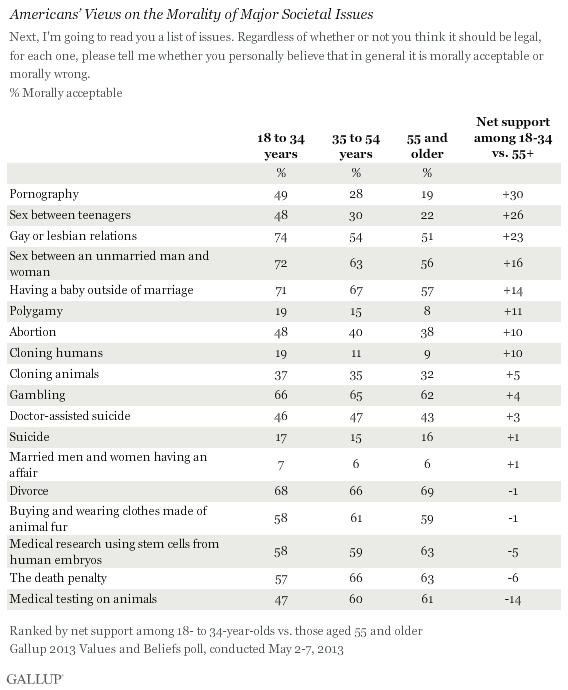 Americans 55 and older still lag 23 percentage points behind adults 34 and younger in supporting gay relations. But the 56 percent approval among older Americans is now majority support and a remarkable 25 percent jump since 2001. The public shift has changed the political landscape. Lawmakers have followed suit with same-sex marriage laws in 11 states and the District of Columbia, and U.S. Supreme Court decisions about marriage equality are imminent.
Older Americans also changed their views in large numbers on whether human embryos should be allowed to be used for stem cell research, which looks for cures for diseases like Parkinson's and Alzheimer's. Gallup says the national increase in support for stem cell research is largely due to growing acceptance by people 55 and older, which has increased 20 percent in 11 years. The issue has been at the center of numerous battles in Congress over the years.
Only on three issues - stem cell research, divorce, and medical testing on animals - do a greater share of older Americans place themselves in the "morally acceptable" column than younger Americans.
Also of Interest

Join AARP: Savings, resources and news for your well-being
See the AARP home page for deals, savings tips, trivia and more