Are Your Electronic Social Security Benefits Safe?
By Carole Fleck , June 19, 2013 05:06 PM
As Social Security paper checks have been replaced by electronic bank deposits, something unexpected and alarming has occurred. Thieves increasingly are stealing beneficiaries' payments by rerouting them into their own accounts or onto a debit card.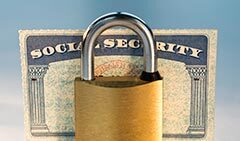 Between October 2011 and June 2013, an astounding $28 million in benefit payments have been stolen.
On June 19, the U.S. Senate Special Committee on Aging brought together a panel of advocates and victims to examine the issue and figure out what can be done to mitigate these crimes. For the many people who live solely on Social Security income, paying for groceries, medication, utilities and other bills becomes impossible when payments are hijacked.
Related: Would Your Bank Help Scammers Rip You Off?
Here's how scam artists are working the system: They get a beneficiary's personal information (perhaps a scheming telemarketer pressures an elder for their Social Security number and bank account info). Then the fraudster contacts Social Security or bank officials, identifying himself as the account holder, and requests that the monthly benefit be redirected to another account (his own). Thieves are also hacking into people's new online Social Security accounts and changing where the beneficiary's Social Security payments are deposited.
One woman, Alexandra Lane, 73, testified before the Senate committee that three months of her Social Security electronic benefit, $3,500, were redirected from her bank account. It took her 50 days and a seemingly endless amount of appeals to her bank, Social Security field offices, police departments, government officials and finally to Sen. Bill Nelson, the committee chairman, before her benefits were reinstated.
She was among the more fortunate. Rebecca Vallas, an attorney at Community Legal Services of Philadelphia, told the committee that thieves stole six months of Social Security disability payments from a pre-paid debit card belonging to a 57-year-old woman. Officials with the Direct Express debit card refused to reimburse the woman, claiming they weren't obligated under government rules. When the woman couldn't pay her apartment rent, she was evicted.

"A single month of lost benefits can lead to enormous hardship," Vallas said. "If Treasury [officials] require the switch to electronic benefits, they have an obligation to ensure that the methods are secure."

Sen. Nelseon insisted recipients who've been victimized "must be made whole in a timely manner."
"Social Security is all their income for one-third of the people in Florida" whose electronic payments were rerouted, he said. "Our goal is to prevent this from happening."
Vallas also urged Treasury officials to expand the conditions under which beneficiaries can waive the requirement to switch to electronic benefits. Currently, beneficiaries can only get waivers if they're older than 90, mentally impaired or live in a rural area, making it difficult to access a bank.
In addition, she pressed officials to make waiver forms available to the public. To get a waiver, she said, a person must contact the Treasury call center and request the form by mail - but call center representatives often give them a hard time and sometimes refuse to mail one. "Ive had to do battle" to get the call center to send a form, Vallas said.
"People are legally entitled to get that form," Sen. Elizabeth Warren of Massachusetts said. If Treasury officials are planning to mail out a letter in July, "threatening" the remaining 2 percent of Social Security beneficiaries who haven't made the switch to electronic benefits to do so, it must explain that waivers are an option. And the forms must be accessible to the public, she added.
A few things you can do to prevent this kind of fraud:

Never give out your personal information to unsolicited callers
Don't agree to accept pre-paid debit cards or credit cards in another person's name
Never send or wire money to an unknown person
Contact your local SSA office if you receive a call from a person claiming to be from SSA, and that person asks you to provide your Social Security number or other information.
[You can report suspicious activity to the Social Security Fraud Hotline, or by phone at 1-800-269-0271.]
Photo: Daniel Grill/Tetra images RF/Getty Images
Also of Interest

Join AARP: Savings, resources and news for your well-being
See the AARP home page for deals, savings tips, trivia and more